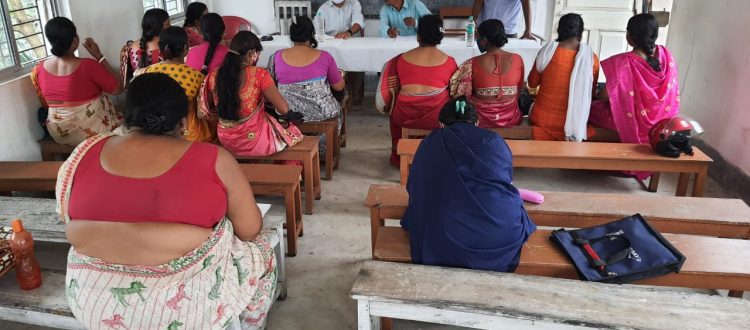 MCDF Presidents Central Meeting at Raidighi Office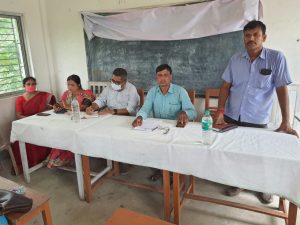 On 26th July 2021 Monday Mukti Community Development Fund (MCDF) Presidents met together at Raidighi MCDF office to discuss the group management and financial norms. 18 Presidents from the branches of Canning, Basanti, Raidighi I and II, Purba Sridharpur, Kankandighi, Herembogopalpur, Radhakantapur, Krishnachandrapur, Patharpratima, Koultola, Kultali, Jaynagar I, Sonatikari, Debipur, Komrapara, Manirtat, and Jalaberiya joined the meeting. With the MCDF Presidents MCDF project manager Mr. Raghunath Bairagi, Mukti volunteers Mr. Dhananjay, Mr. Susanta Purkait, Mr. Gopal Sardar, Mr. Kamal Samanta, Mr. Rajeswar Purkait, and Mr. Subrata Bera attended the meeting. The meeting continued from 12 to 3 PM.
Mr. Soumitra Bose is an ex-auditor and is associated with Mukti for the last 6-7 months, was invited to review the activities of MCDF, to discuss how MCDF can extent further, and to guide them how to work by compliance the regulations of the Government.
The meeting started with the introduction of the Presidents. Later on, Mr. Soumitra Bose introduced himself and explained for what reason he has come to meet them. He talked with each President and wanted to know about their group member, activities, and the problems they are facing.
MCDF Presidents responded to Mr. Bose and the discussion of the meeting proceeded on the issues they mentioned.
The Central President discussed the preamble of the meeting.
The next discussion was on the matters like SHG registration, group formation, and group control.
New groups are formed by organizing meetings. In each group, there must be 10-12 women whose monthly savings will be Rs.150-200. After 6 months the group members will get loans three times their savings. They will get that loan at the rate of 1%. Health loans will be provided if any of the group members encounter any danger. Members can avail of personal loans also with which they can start animal husbandry, fishery, cultivation of paddy and vegetables and thus can be self-reliant. Besides Mukti give them handicraft training.
Mukti Central Account Committee Meeting at Raidighi Office
They discussed the 5% savings. For example, if the savings and the loan is 95% for the month of May and June then they will share 5% of the savings to the forum body members as an incentive. If the collection is 100% then they will share 6% of their savings.
Till now, the group members had to deposit 10% of the savings to the Central office. But from July they need not deposit the same. If they face any problem they can apply to their respective forum branch. Mukti will take care of the matter.
Each SHG group will receive 5 liters of sanitizer.
Soumitra Bose and Mr. Raghunath Bairagri helped the President of the Canning branch to solve their branch problem.
It has been asked to create a tax file in all the branches where the bank is deducting TDS.