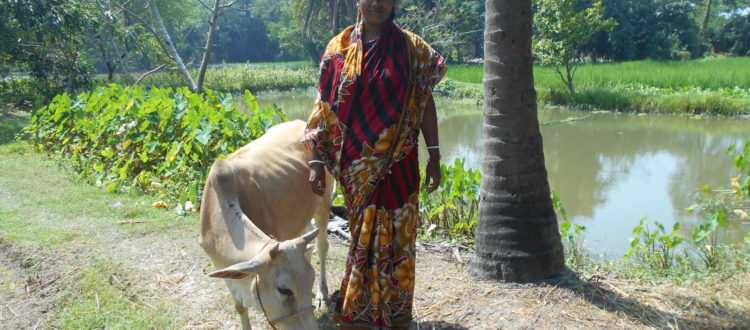 MCDF loan helped Arpita to become self-sufficient
ARPITA PUROKAIT
Village and Post Office: Paschim Jata
Khashari Para
Thana: Raidighi
District: 24 South Parganas
Arpita is associated with MCDF Forum since March 2016. She took a loan of Rs.10000 for buying a cow. Initially she joined as a regular member, and later she joined Forum Community. She took part in various trainings conducted by MUKTI; she took training in incense making. She took much interest in this and later started teaching incense making to others. Later she took part in soft toy making and on her own interest bought raw materials and sold the same in the market. However, this was not much fruitful to her so she bought a cow and this was a promising step.
Before she took the loan from MCDF her financial condition was quite poor as she used to earn from a small fishery and somehow earned a living. Now she is able to earn Rs.2000 per month by selling cow milk and from various other income sources.
Her family consists of 5 members, husband wife and 3 kids. Her elder daughter Sudeshna Purokait is 9 year old, studies in class 3. Her second daughter Sunanda Purokait is 7 year old and studies in class 2. Youngest son is 9 months old Trishan Purokait.
MCDF program has helped Arpita to become a confident woman entrepreneur. Her success story is an example for other women of rural Self-Help group. Thanks to her social investor who lend the money to Arpita to achieve this success. If you want to be a social investor and be part of this success story please visit MCDF program page and our donation page.