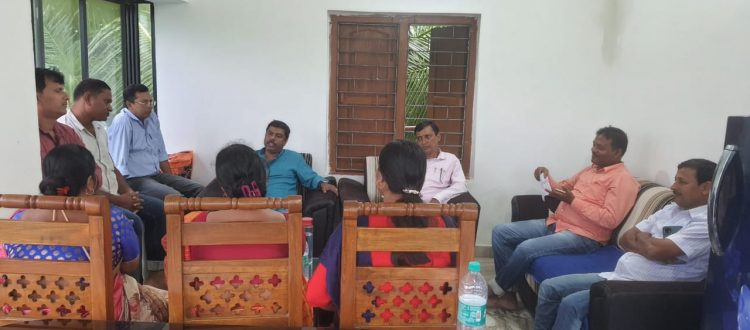 MCDF Business Development Meeting
A business unit development meeting has been organized by Mukti with the MCDF (Mukti Community Development Fund) project coordinators, MCDF forum committee Presidents and Mukti staff associated with MCDF have been invocated to join the meeting. The meeting has been attended by Mr. Sankar Halder – founder –President of Mukti along with Mr. Raghunath Bairagi, Mr. Dhananjay Mondal, Mrs. Manasi, Mrs. Arita, Mr. Santanu Bhowmik , Mrs. Sumita, Mr. Ajay Naskar and Mr. Dharmaraj Naskar
The main agenda of the meeting is to create a market for their products and to help them to sell their products by linking the market. The quality of products produced by MCDF women trained from Mukti Training Centres is of good quality and they also have demand. There is a need for a proper market through which MCDF women can sell their products on a large scale
Some basic problems of marketing the product of the SHGs are – the marketing activities of the SHGs are far below the new standards set by globalization. They only engage in direct marketing. They market their products only locally. They don't think of mass production and massive marketing globally. The packing of the finished products does not attract the mass as other manufactured products do. They don't engage in advertising their products. Some SHG women indulge in door-to-door marketing of their products. This provides less scope of sales and they end with lesser profits.
To free them from this unwanted situation and increase their income, Mukti plans to connect them with some big markets. To implement this plan, Mukti wants to build a store room at Raidighi where the products produced by SHG women from various branches of MCDF will be stored and from there they will be sold in some major cities and villages of the state including Kolkata. Apart from other products, the seedlings that the MCDF members are producing in various nurseries of Mukti will be sold in such markets.
As their income increases, they will be motivated to work which will greatly help them in becoming self-reliant.