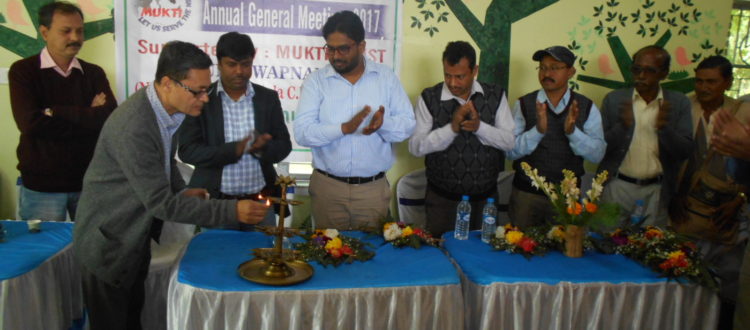 MCDF Annual General Meeting 2017
MUKTI Self-help group Raidighi branch
Venue: Swapnaneer (Near Raidighi Srifaltala C.K. High School)
On 21st January 2017, Raidighi Branch celebrated its Annual program. On this very important occasion, Deputy Manager and Manager of State Bank of India adorned the chair of honourable chief guest. This auspicious event was also graced by the presence of Mukti President Mr. Sankar Halder, Secretary of MUKTI, Mr. Gora Sengupta all the way from Australia, Mr. Sudharshan De, Program Director of MUKTI, Mr. Animesh Naskar, Teacher of Shree Faaltala Chandrakanta Higher Secondary School and renowned social reformer of Raidighi Mr. Chittaranjan Halder, Mr. Rajani Kanta Kopat, Mr. Khokon Patra and many more.
Mr. Rajani Kanta Kopat was the chairperson of the program. The honourable guests inaugurated the program by lighting the lamps. This was followed by a wonderful welcome dance by Rimi Kopat, daughter of an association member. At the closure of the dance performance, the respectable guests of honour were felicitated with flower and sandalwood paste by association members.
The advisor member Mr. Raghunath Bairagi announced Raidighi Branch MCDF group's income, group member count, savings and loan records. He mentioned that currently Raidighi Branch has 70 groups and the total count of members add up to as many as 884. In the month of October 2016 a workshop for incense making was conducted where 30 women undertook the training. Starting November 2016 until 21st January2017, 51 women participated in training sessions on tailoring. Following this, the old committee was dissolved and a new committee was formed, based on voting by all members. Currently the new committee members are:
A) Sutapa Mondal (Treasurer)
B) Anima Mondal (Committee Head)
C) Mamata Mondal (Editor)
D)Sharmila Mondal  E) Dipika Sardar F) Ambalika Mondal G) Sandhya Das H) Ajita Badya I) Shilpa Dolui J) Mita Payik K) Sarathi Basu
Mr. Gora Sengupta, MUKTI President Mr. Sankar Halder and one of the primary guests Mr. Sudarshan De presented a talk on the importance, implication and necessity of this group. They spoke about the group's vision and the motive behind all the social reform initiatives. The program was concluded with a speech by Chairperson Mr. Rajanikanta Kopat. The lunch was arranged by MCDF Raidighi Branch Manager and self-help group catering services. Honourable Smt. Sutapa Mondal, Branch Manager of Raidighi MCDF, closed the AGM wishing everyone success and prosperity of the branch.
Please read more on the model of MCDF at www.muktiweb.org/mcdf/about_mcdf.php.