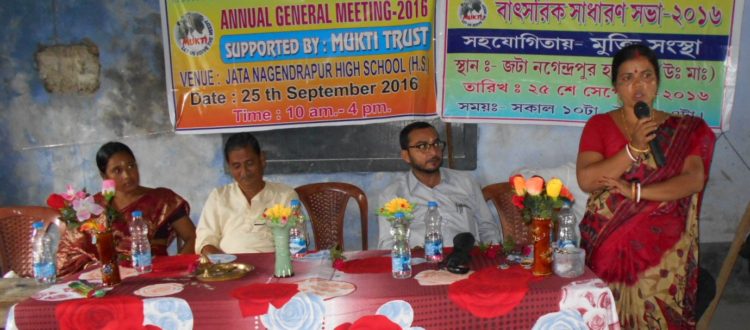 MCDF Annual General Meeting 2016
MUKTI organized MCDF (MUKTI Community Development Fund) Annual General Meeting (AGM) on 25th September 2016 at Purba Sridharpur under Raidighi PS, South 24 Pgs. district. The meeting was held at Jota Nagendrapur High School, and was attended by Mukti officials, employees, MCDF members, MCDF forum members and MCDF friends.
MCDF forum members delivered their speeches and encouraged the MCDF members to come forward and take the benefits of this women entrepreneurship program. They discussed the current situation of MCDF, various ongoing training activities of MCDF and how the members will maximize the benefits by actively participating in the program. The MCDF members mentioned the challenges they are facing from time to time to continue their membership.
MCDF forum members provided suggestions to overcome the challenges and inspired them to continue venturing into new entrepreneurship to increase their earnings. Mukti is trying to bring in professionalism in this program by way of engaging a dedicated team for campaigning, guidance, monitoring of the operations of the centers, and for smooth functioning of the members. At the end of the meeting, the existing forum committee was dismissed and a new forum committee was formed, comprising of 11 members elected by the AGM attendees.
Please read more on the model of MCDF at www.muktiweb.org/mcdf/about_mcdf.php.