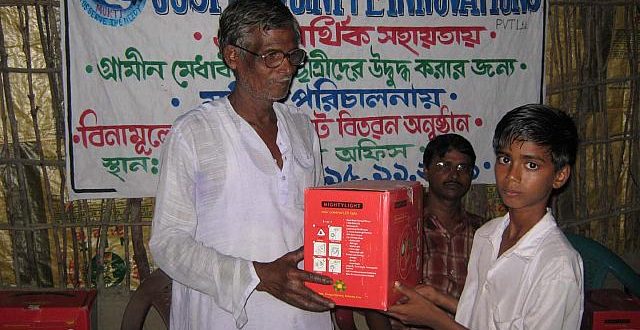 Lighting up Sunderban and their people's lives – access light from Solar Technologies
TAMASO MA JYOTIR GAMAYA
It's better to light a Candle than curse the darkness. To Seek, Suffer and Soar
Over 1.6 billion people in the world lack access to electricity and roughly 25% are in India alone with majority of them are in rural areas like Sunderban as an example. For these unfortunate people, life comes to a standstill after dusk. Inadequate lighting is not only an impediment to progress and development opportunities, but also has a direct impact on the health, environment, and safety of millions of people, as they are forced to light their homes with kerosene lamps, dung cakes, firewood, and crop residue after sunset.
With increasing interest in fuel conservation, the idea of employing sunlight for interior lighting has again become popular. The use of solar energy has received widespread attention in recent years as an approach to the conservation of energy.
Recognizing the need to change the existing scenario, TERI (The Energy Research Institute headed by Dr. R K Pachauri); with its vision to work for global sustainable development and its commitment towards creating innovative solutions for a better tomorrow; along with grass root organizations like MUKTI; a charitable and socio-economic development organization established in 2003; has undertaken an initiative of 'Lighting a Billion Lives' (LaBL) through the use of solar lighting devices. TERI with Rs. 2.0 lakhs and MUKTI (with the help of MUKTI-QATAR chapter) with Rs. 1.0 lakh were very instrumental in the funding of this noble project. The campaign offers local and global environmental benefits. Each solar lantern in its useful life of 10 years displaces the use of about 500-600 liters of kerosene, thereby mitigating about 1.5 tones of CO2. Solar lamps have a battery that is charged up during daylight hours by solar radiation and which provide light at night when required. The solar panel converts solar energy during the day time into electrical power to charge up or to maintain a charge in a battery power pack which supplies the lamp during the night as required.
In alignment with the above project, MUKTI has specifically set-up another project on Solar reading lamp at Nagendrapur GP called Cosmos Ignite Innovations. Through this project, MUKTI, specifically on 15.11.2009, had distributed 24 solar lamps in four areas of Nagendrapur namely Damkal, Purbasridharpur, Nagendrapur and Bargonagar respectively. Students who stood first in their respective classes from class V to class X in these four centers were shortlisted. Among numerous delegates, the first student from each class from the above 4 centers were prized with one solar lamp by MUKTI coordinator, Mr. Bimal Bairagi. Some of the clippings of the above COSMOS project are provided at the end of this report. The goal of this project was to produce a self contained reading lamp that could be used by students in remote location for reading at night.
In a totally separate project for Sunderban interiors, MUKTI, USA and One Million Lights, USA distributed 40 solar lamps among talented but needy students and some underprivileged villagers of Dakshin Kankandighi, Sunderban. MUKTI arranged for the funds to purchase the lights and OneMIllionLights matched three-fold for the initial lot to make the project a huge success. The lamps were distributed by Mr. Himan Mukherjee of MUKTI, and Ms Koel Ghorai among others for using solar lanterns instead of kerosene. The project primary focused on how the villagers and students can easily switch over to solar lamps and reduce or stop kerosene use at the same or lower cost thus creating solar entrepreneurs in Sunderban. Solar power lamp has been commonly used in place of the electrically powered lamp to illuminate pathways, yards, parks, studies in remote location and other areas, for the purpose of saving existing fuel resources and protecting the environment from pollution. Solar powered illumination devices utilize photovoltaic devices to charge batteries which, in turn, activate a light source contained therein, in the absence of sunlight, for illumination and/or decorative purposes. Such solar powered lighting devices are desirable because they are relatively inexpensive and require very little maintenance.
The news also made limelight in the hit local Bengali newspaper AAJKAAL as mentioned in the link: