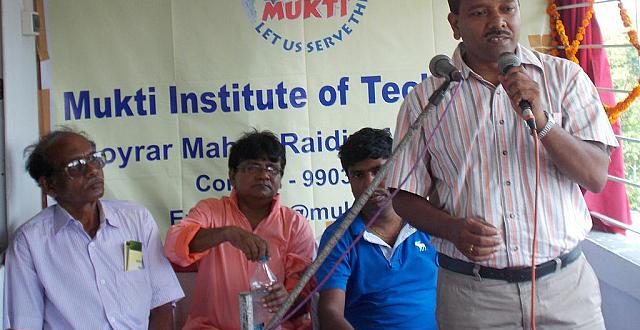 Inauguration of Mukti Institute Of Technology (MIT)
Mukti, with its decade long experience, has identified the main reason behind the unemployment of Sunderban youth. The lack of employment opportunities for the youth who have studied beyond primary school but are not interested in farming, cultivation and other such economic activity in the region, is creating a huge unemployment problem. Keeping livelihood as a primary goal, Mukti decided to address the issue by providing various vocational trainings to the youth for their future establishment.
To overcome this problem, a training facility named Mukti Institute of Technology (MIT) has been set up at Moyrar Mahal, Raidighi, South 24 Parganas in rented premises with a total carpet area of 2,500 square feet. The inauguration ceremony was held on 15th May 2016, with the presence of Mukti board members, Mukti employees and chief guest. Ex BLRO (Block Land Record Officer) & Lions Club Raidighi Secretary Mr. Chittaranjan Halder was the chief guests at the programme. The programme was started with an inauguration song by a local artist. Mr. Chittaranjan Halder and all the other guests were greeted with flowers. Mr. Asis Halder, Secretary of Mukti, lighted the oil lamp to initiate the inauguration ceremony. Mr. Sankar Halder, President of Mukti, raised the curtain off the MIT nameplate. Mr. Chittaranjan Halder cut the ribbon to inaugurate the class rooms. The entire programme was conducted by Ex Mukti Secretary Mr. Biswanath Mondal. Refreshments were served to the participated people. The board members, chief guest & few local renowned persons delivered their speeches and encouraged the students to come forward to get the benefits of this institute.
MIT classes will start from June 2016. The courses are available at an affordable cost and the duration of courses will be a minimum of 9 to a maximum of 23 weeks. Eligibility criterion for enrolling in the following courses is completion of 10th standard of schooling:
Mukti Certified Desktop Office Assistant (MDDOA)
Mukti Certified Desktop Publishing Officer (MCDPO)
Mukti Certified Secured Web-Service Assistant (MCSWA)
Mukti Certified Accounts & Retail Management (MCARM)
Mukti Certified Job Oriented Computer (MCJOC)
MIT will try to provide employment opportunity to the students after completion of the course. Student and computer ratio will be 2:1 and the students will be given more practical training. Extra classes will be provided to the students if they face any difficulty in understanding anything in the regular class. Mukti is advertising about MIT through different print media, hoardings, leaflets, banners and aiming to create a bright future for the youth. Mukti is looking forward to making MIT a grand success!!