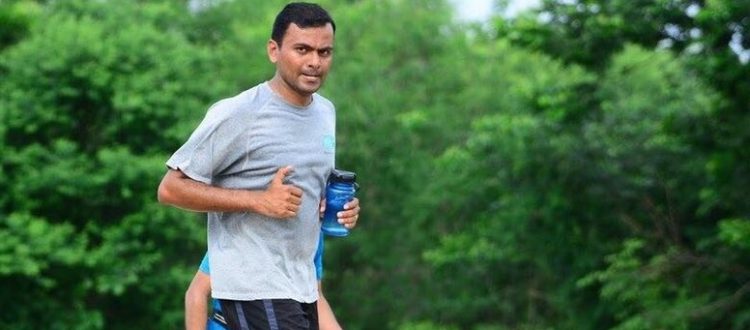 Hyderbad Marathon Runner Vishwanath Running for Cause MUKTI
Vishwanath Jogini has engaged with several non-profit organisations, including volunteering with Asha for Education (www.ashanet.org) for 8 years. Being socially aware, as well as having a natural inclination towards sports, he chose running as one of the tools he could direct towards social causes. He has run 3 full marathons for such causes, in the process raising $4000 for 2 Asha projects, and ₹85,000 for Mukti.
In last year 2017, Vishwanath ran the half marathon for cause MUKTI and raised about ₹35,000. This year, again he is running the Hyderabad Half marathon in August 2018 to raise funds for the Mukti Community Development Fund (MCDF).
In his own words:
The motivation to do something for the less fortunate in India came to me when I realised that I was blessed in so many ways, and that I could make a difference by being proactive. I joined Asha for Education (AfE), an organisation working towards providing basic education to underprivileged children in India. Education can help catalyse socioeconomic change and directly affect the lives of millions. I always had an urge to do more than volunteering and helping with fundraising efforts. In 2004 and 2007, I had run two marathons (Marine Corps Marathon and Chicago Marathon) to raise funds that are used towards projects pertaining not only to education but also to provide vocational training to women. I successfully completed both the marathons and more importantly, raised $4000, thanks to the support of all my friends, colleagues and donors. Three years back I ran Mumbai marathon to raise funds (₹50,000) for Mukti to set up coaching centres. The need for funds is ever present for the many NGO's catering to different socio-economic issues in present day India. A program at Mukti that caters to the women self employment in the remote places of Sunderban area is in need of funds for running their vocational courses and establishing self help groups in different villages. To support this cause I am undertaking the Hyderabad Half Marathon on the 26th of August 2018. I have run many full and half marathons and I am better aware of the challenges, the discipline and the physical endurance it takes to train for such a challenging endeavor. Similar way last year I was able to raise about ₹35,000 for MUKTI's cause. I am aiming to raise one lakh rupees this time. I hope that with your monetary support, it will be a worthwhile challenge. Please consider sponsoring a part of my run. Your support is much needed and appreciated to make this run a success.
Support My Cause