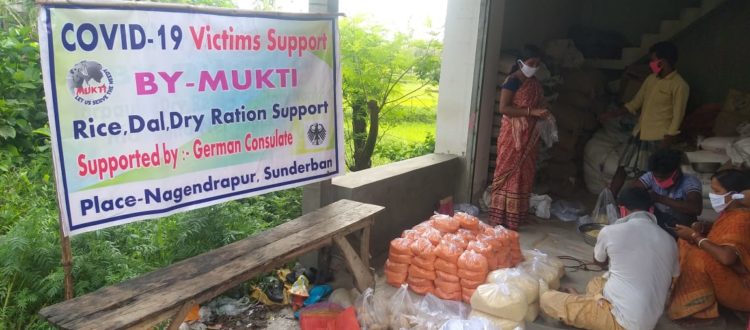 German Consulate donates to Mukti for the Food Support of Covid- 19 Affected Vulnerable
The outbreak of novel Coronavirus pandemic is in its complete sense created a huge impact in our life. The lockdown has already disproportionately hurt marginalized communities due to loss of livelihood and lack of food, shelter, health, and other basic needs.
Migrants are forced to leave their native places in search of better opportunities and earnings, sometime leaving behind their families. In many instances, the families in native places depend partially or entirely on the money sent by the migrant earning members of the family. During outbreak of communicable diseases, such a COVID-19, and the restrictions imposed on routine activities as part of social distancing norms to prevent the spread of the disease, scores of migrant workers tend to move back to their native places without food, money, savings and hope.
Mukti does have a responsibility to protect the health and well-being of the population.
Mukti is directly connected to 15000 households through SHG (Self Help Group), Farmers, students/teachers and indirectly connected to 5 lakh people. Mukti appealed to German Consulate for some help to support around 5000 households.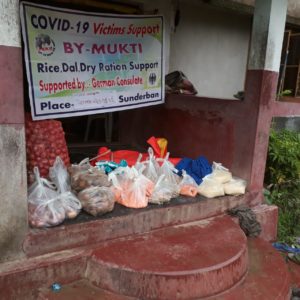 The German Consulate in Kolkata has donated Rs 26,13,996 INR (32000 Euros) to Mukti for food support to 2355 people.
Mukti distributed Rice, Dal, Potato, Oil, Salt, Soap, Masks, and Sanitizer costing Rs. 73 per day. The total cost was 2355X73X15= INR 26, 14, 000.
| | |
| --- | --- |
| Block Name | Number of Beneficiaries |
| Kultali | 992 |
| Mathurapur I | 375 |
| Mathurapur II | 1000 |
| Patharpratima | 834 |
| Raidighi | 725 |
| 5 | 3926 |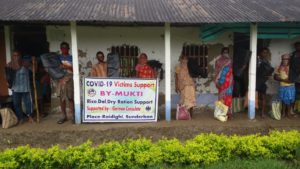 Mukti expresses their gratitude towards German Consulate for coming forward and standing by side of Mukti towards the effort of saving lives of people in these hard times.