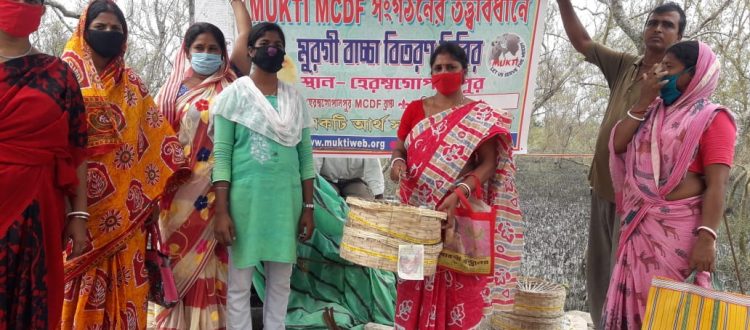 For Empowerment of Women Mukti Supported the MCDF Members with Chicks
Baikunthopur, Kankandighi, Kultali, Nagendrapur, Radhakantapur are some of the areas where agriculture is the primary source of income and many of them are migrant workers. The dual impact of Amphan and Covid-19 lockdown phase had brought a lot of trouble to their lives. A lot of people are still suffering from poverty due to inconsistent productions of crops and insufficient job opportunities.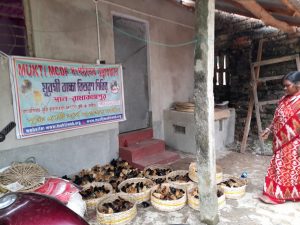 Mukti conducted chick distribution program for the SHG members for poultry farming and for women empowerment. Mukti in association with "eastern Navigation Pvt. Ltd." distributed 10 chicks to each woman free of cost. Mukti will arrange medicines, vaccines for the growing up chickens. In future they can sell the produce in the open market and thus the fund will rotate for further utilization.
The poultry farming project will contribute to the poverty alleviation in the target population, empower the beneficiaries, and contribute to the improvement of health conditions of the beneficiaries as well. It will improve the socio-economic status of the target community.
The details of the program are mentioned below.
| | | | |
| --- | --- | --- | --- |
| Branch Name | Name of the Area | Number of Beneficiaries | Number of Chicks |
| Kultali | Baikunthopur | 48 | 480 |
| Kankandighi | Kankandighi | 51 | 510 |
| Purba Sridharpur | Nagendrapur | 51 | 510 |
| Radhakantapur | Radhakantapur | 51 | 510 |
| Raidighi II | Raidighi | 51 | 510 |
| Raidighi I | Nandakumarpur | 51 | 510 |
| Herambogopalpur | Herambogopalpur | 51 | 510 |
| Sonatikari | Nalgora | 51 | 510 |
| 8 Branches | 8 Areas | 405 | 4050 |