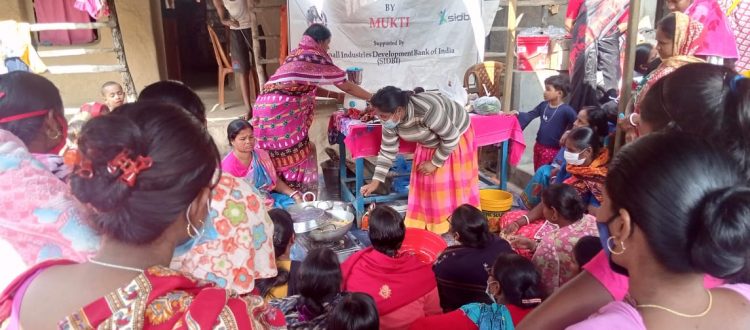 Food Processing Training of Mukti Supporting SGHs to Generate Income
From 4th to 8th January 2022, 50 MCDF members of the Sonatikari branch have attended a training workshop organized by Mukti in association with "SIDBI" (Small Industries Development Bank of India) under the SWAS (Swabalamban Accelerator in Sundarban) project. At this workshop, they have learned about the process and benefits of Food processing and preparing pickles, Jams, sauces, bori (dried lentil dumplings) etc. The workshop has proved revolutionary for both the SHGs as the process shown was very easy and they just need to know some techniques and maintain the timing.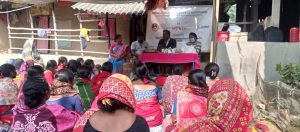 Under the supervision of Ms. Debomita Naiyya, the trainer they have been provided training on making Jam, Jelly, Tomato, Chili sauce, Kasundi (mustard pickle), Chili, Garlic, Eggplant, mix vegetable pickle, bori (dried lentil dumplings), squash etc. Every day their class started from 11 am to 4 pm.
"I am very lucky to have Participated in the food processing training as I have learned to process preparing different types of bakery products and pickles and their packaging and labeling. Food processing has helped me solve my financial problems as it brought new opportunities for earning a livelihood. I am confident that more earnings will come from food processing and the living standards of my family will improve," says Mrs. Madhabi Halder, one of the successful trainees of the food processing training.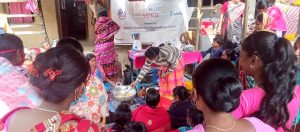 The training has been extremely successful as they could learn how food processing gives a very good start and profit. Mukti has provided them simple ingredients for making pickles like species, oil, vegetables of any choice and pickle packing bottles or containers and other ingredients for making jams etc.
As of now, they sell these products in their own and nearby villages. Meanwhile, Mukti is trying to arrange a market for their produce.
With their knowledge and success, the groups are today mobilizing resources and encouraging other SHGS groups in their community by giving them training and to follow in their footsteps and choose food processing as a viable livelihood.