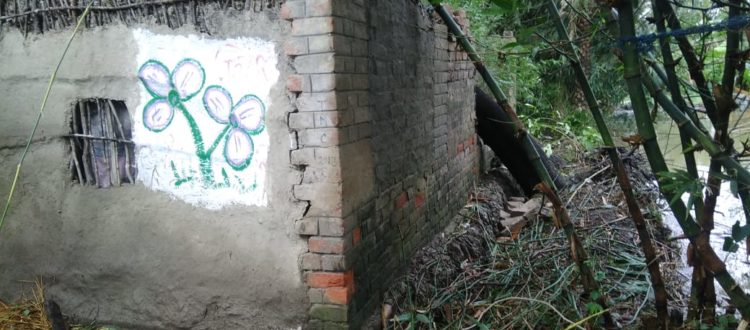 Effects of Cyclone Bulbul and Sundarban Health | Disaster relief and recovery efforts conducted by MUKTI to protect and improve human conditions| Latest Update
Cyclone Bulbul hit the Sundarban between Sagar Island in India and Khepupara in Bangladesh on Sunday early morning. After cyclone Aila, this is the first major cyclone to hit the Sundarbans in 10 years. As an effect hundreds of houses got demolished, thousands of trees have been uprooted and hundreds of acres of agriculture land has been washed away. The storm was especially devastating for farmers who were preparing to harvest rice and other crops. Suspecting impact on agriculture, cattle, wild animal, Sundarban forest. More than 400 volunteers of MUKTI are working in different parts of Sundarban where the cyclone has created havoc with emergency support in 18 GPs (Gram Panchayat) of 5 blocks (Kakdwip, Namkhana, Pathor, Mathurapur and Kuldali).
Effects of Bulbul
As per the latest update, from early morning today all our volunteers of MUKTI are relentlessly working at the field as well as at back-end to mobilize entire team. To summarize the present situation of Sundarban that our volunteers have eye witnessed are:
Thousands of trees got uprooted, roofs gave way and houses and shops suffered damage. Not a single road left which is not blocked by trees.
In many villages the tress have befallen on houses damaging around 50% of the houses in Sundarban.
There have been a lot of damage, lot of thatched houses have collapsed, agricultural land damaged. All the vegetables of vegetable farming have been mashed out.
There is whooping loss in livestock of many farmers.
Saline water gushed in through breaches in the river dykes and inundated houses and lands.
Relief operations underway by Mukti Volunteers
Due to the devastating effect of Bulbul, all the people and families are out of food from last  night, Mukti volunteers are ensuring food security with enhanced livelihood activities, trying to feed them and provide support. Volunteers are also working to remove the trees from roads and restore previous situation. At the bank areas we have started "Food for Work" to urge people come forward to create river dykes so that saline water does not gush out inwards and damage houses and Mukti will provide food to them.
Disaster relief and recovery efforts are continuously being conducted by MUKTI to protect and improve human conditions. Mukti is now sending team to take data about Sundarban wildlife loss. Mukti is working day and night to help Sundarban people and evaluate the accurate overall damage assessment due to Bulbul and collect data to keep you updated about the situation time to time. We urge you to extend your help in whatever way it is possible. If you are interested to help and support the relief work along with MUKTI, please call +91 9051112664