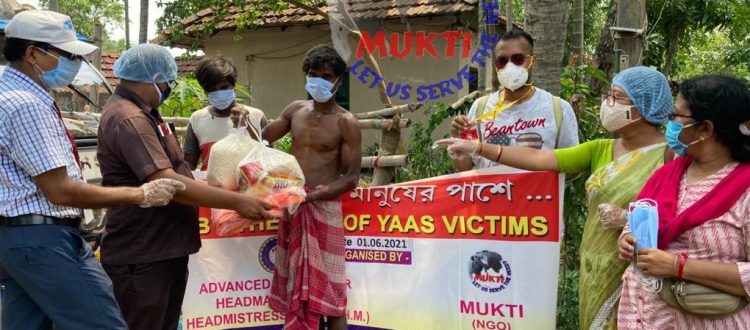 Dry Ration Support by Mukti to the Yaas Victims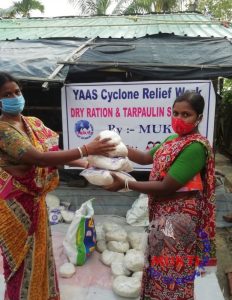 Mukti have mobilized all its volunteers in Sundarban to provide relief to the vulnerable people in this time of crisis, when the severe cyclone Yaas had took away everything from them. The dual crisis of Yaas and Covid-19 had made them cluesless.
To support those vulnerable Mukti started to distribute dry ration throughout Sundarban by maintaining the protocols of Covid-19 as well. To avoid the crowd Mukti volunteers are distribution dry ration to a limited number of people every day. Beneficiaries are instructed to maintain a queue and to pick up their packets by their own hand. Sometimes Mukti volunteers are providing the packet by going at their doorstep also.
The dry ration kit, has supplies like rice, wheat, dal, Soybean, Suji, Onion and salt and biscuit packets which will last a family of four for two weeks. Mukti volunteers who are helping distribute the kits are keeping social distance, are wearing masks and are ensuring that they do the best they can to help.
| | | | |
| --- | --- | --- | --- |
| Village Name | Gram Panchayat | Block | Number of Beneficiaries |
| Basanti | Basanti | Basanti | 400 |
| Baradanagar | Nagendrapur | Mathurapur II | 50 |
| Purbasridhar | Nagendrapur | Mathurapur II | 87 |
| Uttar kumropara | Kumropara | MathurapurII | 8 |
| Uttar kumropara Maitir ghery | Kumropara | Mathurapur II | 20 |
| Ramganga | Ramganga | Patharpratima | 11 |
| 6 Villages | 4 GPs | 3 Blocks | 576 |