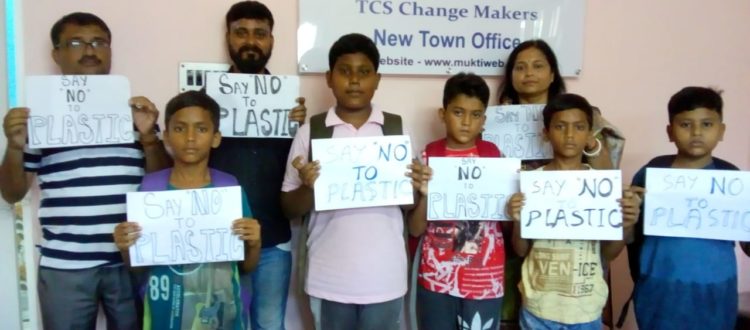 Do something drastic; Cut the plastic – MUKTI raises its voice on an awareness program against Plastic
As a part of this year's TCS "Swachhata hi Seva" drive, saw the Jatragachi Mukti Centre at New Town on 22nd September with all its associates to raise awareness to the issue of Plastic Pollution so they too can start being the solution to the problem. All TCS Mukti volunteers and senior members threw light on the burning issue of toxic plastic laden environment and ways to transform our environment into a lush teeming scenery. We took this opportunity to meet all the children and woman of Jatragacahi village ranging across all ages from toddlers to the wrinkled,to help them understand how important it is to try and cut down on the amount of Plastic Trash we add to our environment each day.
We also tried to teach them about the different types of plastic and and help them understand which plastics are more readily recyclable and which ones should be avoided since they were not easily recycled in most communities.Next we made Jatragachi people aware of the basic facts about our consumption of single use shopping bags and water bottles and help them understand the impact plastic trash has on our environment and on animals.  In the awareness program we also gave them simple steps which will allow them to start making an immediate difference at home by separating the dry and wet wastes.
All the kids, children and women of Jatragachi village were very attentive and it was a sincere pleasure for all of us to make them aware about plastic pollution.We engaged them in writing up slogans ' SAY NO TO  PLASTIC" in which they participated with great enthusiasm.We liked the looks on the faces of the children to learn both the good and the bad facts about plastic pollution and we especially liked hearing the conviction in their voices as they excitedly explain that they are going to go home and tell their parents what they had learned.
You can see all the amazing pictures from the awareness program at MUKTI Jatrgachi New Town center.
The day had ended with immense motivation and we have inspired all our Jatragachi family to take effort to try and make a difference as "Anybody Can Make A Difference… If We Can, You Can Too"