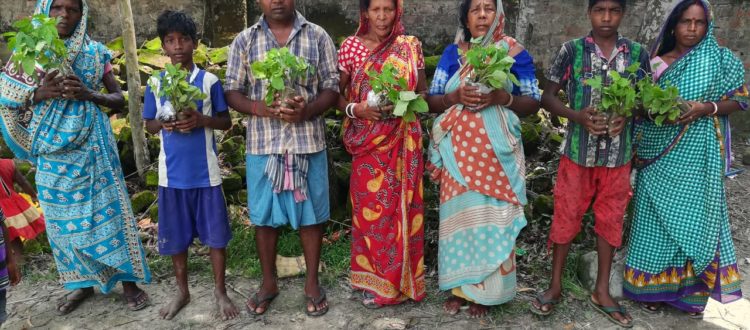 Distribution of seeds and seedlings among the Adivasi families
Mukti stood by 151 poor homeless  Adivasi (economically backward)  families who managed to stay near the river bank. The land on which they stay are barren land, so they cannot cultivate the land. Mukti believes in long term sustainable solution. Mukti through Sustainable Agriculture Movement  (SAM) project distributed vegetable seeds and seedlings to these families. They were also provided pots like broken buckets, torn sack and tub to grow these seedlings. These families were trained properly to grow these plant in an organic way. They can also sell the vegetables in the market for an earning . Mukti is continuing this program since last two years.
On 15th June morning , distribution of seeds and seedlings was conducted at Dakhin Kankandighi Munda para and Nagendrapur Adivasi para. They were given seeds and seedlings of many variety of vegetables _ seedlings of brinjal ( 10 to each family ),chillie (10 to each families ) and papaya (5 to each families ). Seeds of snake gourd, bottle gourd, ridge gourd ,pumpkin and varieties of spinach (saak ).