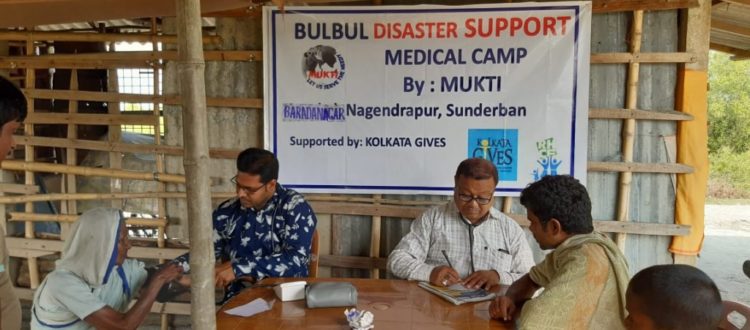 Day 9: Medical Camp at Purbasridharpur, Nagendrapur Gp for Cyclone-affected Families
Devastating rains and 155km/h strong winds of Cyclone Bulbul not only affected the lives of the villagers in Sunderban, but also had an adverse effect on their health. Even after weeks of the storm, many families are facing health issues and are in need of medical attention.
In a series of medical camps organised by Mukti in different villages of Kakdwip, Sunderban, doctors are expected to treat over 3500 patients, with many villages in the interiors of Sunderban being visited twice.
In Purbasridharpur, Nagendrapur Gp there were nearly 200 residents who were facing issues like stomach ailments and fever due to the lack of proper living conditions. Doctors checked them for such problems and provided them with the necessary treatments. Other ailments diagnosed by the doctors are cough and cold, skin diseases and gynaecological issues.
Mukti also ensured that these members were provided with the medicine and other medical supplies required to keep themselves safe from physical ailments. Mukti volunteers handed over the prescribed medicines and ORS to help the patients get back to the pink of health.
There are many more patients who still need our support. With our limited means we are able to do a little but with your help, we can go a long way. So please help us, help them!
Donate Now!
Browse the photos here!