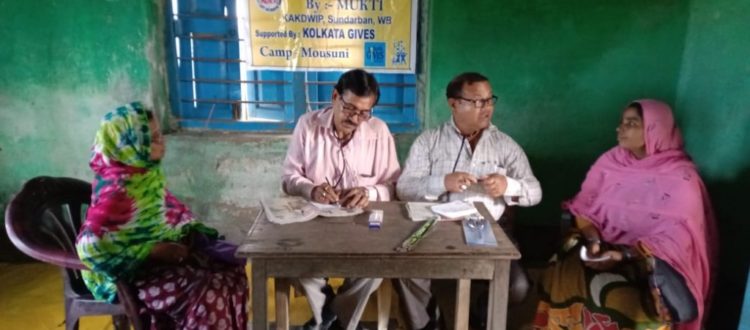 Day 6: Medical Camp at Mousumi Island for Cyclone-affected Families
10th November, 2019 saw Sunderban facing one of the worst natural calamities to hit India – Cyclone Bulbul. 155km/h winds and torrential rainfall wreaked havoc in 40 villages of Sunderban, thus hampering the life and living of lakhs of families. Most of these villages are situated far away from towns, hence making it difficult for villagers to get access to good medical support.
In order to address this problem, Mukti has organised a series of medical camps to be hosted over 15 days, where in doctors will be treating over 4000 patients. Day 6 of the camp was held in Mousumi Island where 160 patients were treated. Being the coastal area, this area was heavily affected by the wind and many residents suffered from injuries sustained during the storm. They had not received any treatments until the they got themselves checked by the Mukti team.
A general problem in most of these villages is the lack of proper hygiene. This has resulted in the increase of gynaecological problems among women. Doctors were able to treat and provide necessary supplies to them for future use. Mukti workers also gave them instructions on how to better their hygiene and improve the sanitation conditions.
With our limited resources we can only do so much. We would be grateful if you could come forward and help us in any way possible. Please help us, help them!
Donate Now!
Browse the photos here!