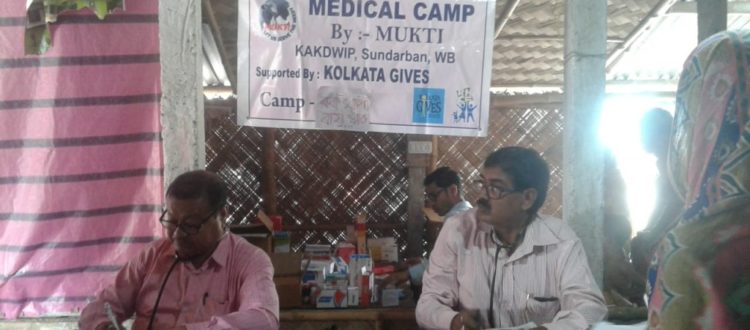 Day 5: Medical Camp at Bakkhali Bus Stand for Cyclone-affected Families
The medical camps organised by Mukti has been able to provide medical support to nearly a 1000 families in the last 5 days. Doctors have been travelling to the different remote villages that have been destroyed by Cyclone Bulbul and providing medical support to the families affected by the terrible wind and rain.
Day 5 of the camp took us to Bakkhali Bus Stand where over 200 members were treated. Being one of the worst hit villages of Sunderban, the amount of damage is immeasurable. Hundreds of families have been left homeless post the storm, with no proper shelter till now. Mukti has been providing relief to these families for the past 3 weeks and these medical camps have been organised to provide them with the support required to get them back on their feet.
Of the many patients who attended the camp, the doctors noted that many of them were suffering from injuries sustained during the storm. Due to lack of treatment, some of these wounds have caused skin diseases and other ailments. The doctors have treated the patients and Mukti workers provided them with the medical supplies to help them recuperate. Along with this, general case of cough and cold, fever and stomach ailments were also diagnosed and treated by the doctors.
With 10 more days of the camp remaining, we need all the support we can get to keep treating these villagers. Please come forward and show us your support in any way possible. Please help us, help them!
Donate Now!
Browse the photos here!