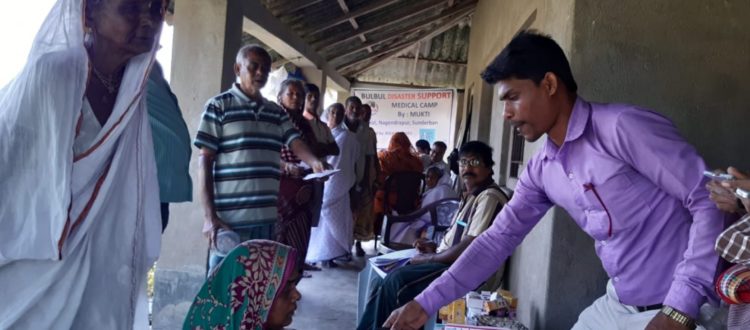 Day 10: Medical Camp At Damkal, Nagendrapur For Cyclone-affected Families
Post Bulbul Cyclone many villagers from the cyclone-affected areas of Sunderban are suffering from medical problems. But due to the lack of proper support they have been unable to get the proper medical aid needed to get back to the pink of health. Keeping this issue in mind, Mukti came forward and initiated a medical camp for the members of these villages.
The success of these camps continue with Damkal in Nagendrapur. This village had many families who were awaiting the team of doctors. The patients were diagnosed and treated by the doctors, while the Mukti volunteers provided them with the medical supplies needed to get back their health.
Day 10 saw a large number of very young kids in attendance. A few babies were brought in by their mothers and diagnosed with stomach problems. This is mainly due to the lack of proper meals and sanitation. Mukti has provided these families with grains, vegetables, utensils, financial aid and medical supplies – trying to ease their distressed situation.
There is yet a long way to go. We would be grateful if you could support our endeavour, and come forward and help us, help them!
Donate Now!
Browse the photo here!