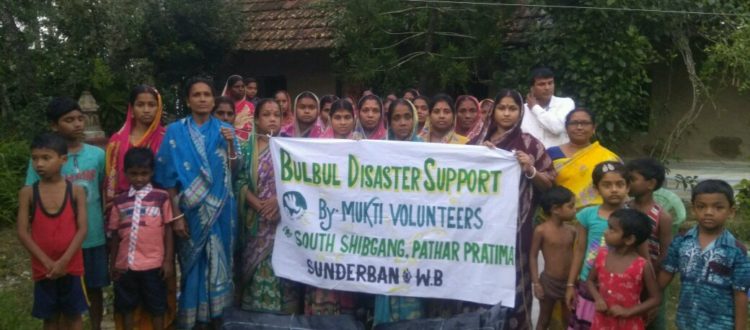 Cyclone Bulbul Relief Work Continues in Patharpratima (Shibgani) in Sunderban
Just, a week ago, on 10th November 2019, Bulbul cyclone had made a landfall with severe wind speed of 110-120 kmph over the Bay of Bengal causing severe storm, damage to thatched houses, partial damage to communication and power lines, major damage to coastal crops, uprooting of trees and severe damage to the life of the people.
Mukti had already developed and refined the response plans to minimise the impact on the people by evacuation, setting up shelters, arrangement of food and other supplies. The situation still remains critical in spite of the tireless relief work by Mukti.
In Shibganj village of Patharpratima Block, 19 families were distributed plastic and mosquito net by the volunteers. Approximately, 23 families are still in need of the basic supplies here.
Plastic, mosquito nets and foods were given in Kankandighi to the bereaved families of the 3 fishermen whose boat had capsized during the cyclone. Financial support of Rs.1000/- was also given to them. Due to devastation and loss of houses, the village people are lacking essential clothing which is one of the major relief needs of the time.
35 families in Dakshin Kashinagar and 16 families in Raidighi were provided with plastics, mosquito nets and blankets as part of the relief drive by Mukti.
In Kakdwip Block, 20 families were given plastics and jaggery in the Sagar lighthouse area. Relief operations will continue in Sagar and Bakkhali as large number of families need support relief here.
We earnestly appeal for your support for the rehabilitation of poor and vulnerable communities whose livelihoods and property have suffered damage due to the cyclone.