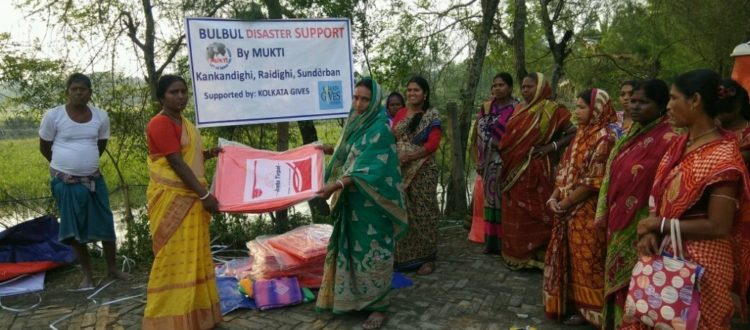 Cyclone Bulbul Relief Support Along with Kolkata Gives Foundation
Mukti continues the rehabilitation initiative in Sunderban for the Bulbul cyclone affected people. More than 1 lakh families became homeless on 10th November 2019 midnight when gusting wind and storm blew bringing heavy rainfall in the area.
Many lives were shattered as livelihood got severely impacted. Farmers lost their seasonal harvest of paddy, livestocks were lost due to falling trees, etc.
We are very thankful to Kolkata Gives Foundation for their tremendous support to Mukti for extending relief for the cyclone affected people. The Foundation donated 600 tarpaulins, 800 kgs of pulses, 700 blankets and 400 mosquito nets for the relief work.
With this support, Mukti has been able to reach out to approximately 600 families in Purbassridharpur, Damkal, Nagendrapur, Baradanagar, Uttar Kankandighi, Dakshin Kankandighi, Raidighi, Kumrapara, Nandakumarpur, Narendrapur, Madhusudan Chawk, Buler bazaar, Mohabbatnagar, Maipith, Bhubaneshwari, Madhyapurbagurguria, Surendranagar, Kuemuri, Achintanagar, Gobardhanpur, Daspur, Sitarampur, Berarlatt, Botkhali, Bnglabazar, Sumatinagar, Light House, Chandanpiri and few other villages. The donation fund was used to purchase more such items and distribute it among the affected people.
Mukti plans to continue the relief work for the coming days too. The local team is visiting the villages and houses to understand the effect of the calamity and the nature of support required by the families.
We urge help and donation so that more and more people can be reached whose lives have got severely impacted.
Donate Now!
Browse the photos Click Here