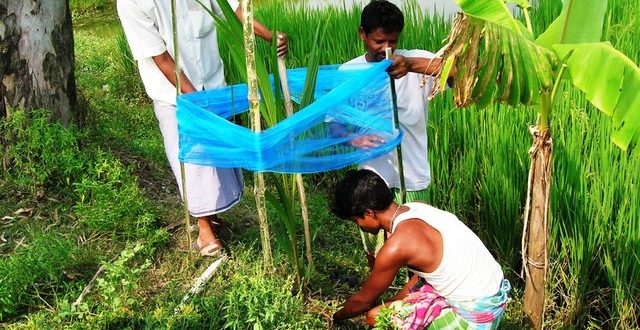 Conconut Tree Plantation supported by BOCI
Due to Climate change across the globe, the temperature of the Sunderban –Delta, region is also alarmingly increasing endangering the nature of the soil and life of inhabitants. Due to salinity, lands are laying uncultivated as flood submerges major land area causing chronic food insecurity and making livelihood extreme vulnerable.
The environmental problems in India are growing rapidly. The increasing economic development and a rapidly growing population are putting a strain on the environment, infrastructure and natural resources of the country. Over exploitation of the resources has resulted degradation of environment. Environmental pollution is one of the most serious problems facing humanity and other life forms on our planet today.
There are about 4,954,653 populations in the district of South 24 Paraganas of Sunderban –Delta. People of Sunderban mainly depend on Agriculture & small handicrafts. Mukti has done a survey on livelihood and occupation of the people. Most of the people live in and around in Sunderban-Delta do not have round the year jobs, which is one of the main reasons of poverty. Due to saline water & soil, the coconut tree is one of the best suited trees as it needs soil which has higher than average salt & thrives for topical climate.
Since 2009, Mukti has been trying to plant coconut trees through coconut nurseries in different parts of South 24 Paraganas under the Central Government Scheme of MGNREGA through which Government is able to create more jobs for the rural job card holders. At the same time this process is going to build up a campaign towards coconut plants which is valuable in terms of food, environment & protection of embankment, which in turn resists frequent floods.
In the short term, Mukti is planning plantation of 300,000 Coconut plants through MGNREGA-programme with the collaboration of different government Agencies in the region of Sunderban- Delta. In the long term vision, Mukti is campaigning to plant more and more coconut trees through people's participation.
People of Sunderban – Delta are unaware that these coconut trees can be one of their main sources of income. Coconut trees grow without any care. The coconut palm thrives of sandy soils and is highly tolerant of salinity. It prefers areas with abundant sunlight and regular rainfall.
A serious thought being taken by Mukti to encourage and push through more and more Coconut productions in the Sunderban region. Mukti has been trying to liaison with Nodal officer, MGNREGA to promote this programme spreading over Sunderban-Delta. So far, we are successful in few blocks such as Mathurapur-II, Namkhana, and Basanti & Gosaba.
Apart from that we also try to negotiate with corporate sectors. Through BOCI (British Oxyzen Company India) we planted 1000 Coconut plants successfully at Kankandighi under the Block Mathurapur-II. The local people of Mathurapur want to see more of this kind of initiative from Mukti. The officials of BOCI visited spot and happy to support in future also.
The availability of financial help from corporate sectors will help Mukti to implement plantation of Cocoanut trees in more blocks of Sunderban-Delta which will, in turn, provide poor people an alternate source of income.