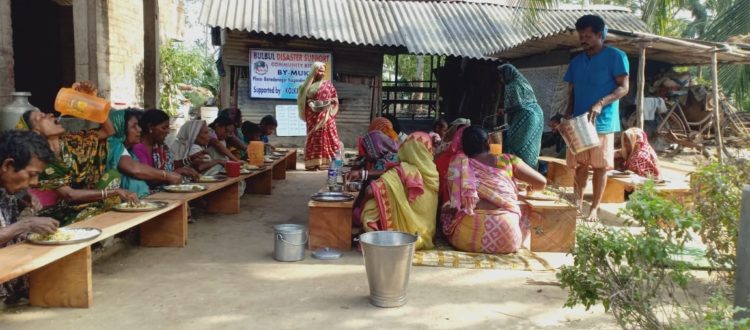 Community Kitchens by Mukti in Collaboration with Kolkata Gives Foundation
Some of the worst affected areas of Sunderban, post Cyclone Bulbul, are yet to get back to their normal life. Loss of homes and agricultural land rendered many families homeless. One of the biggest side effect of this is that many of these families still don't have access to two meals a day. This was the cause of many health issues among these families.
To help these families during their times of need, Mukti in collaboration with Kolkata Gives Foundation, initiated 13 community kitchens where 1560 meals, per day, will be provided to such families.
These community kitchens are registering the villagers for two meals a day – lunch and dinner. They are provided with rice, lentils, vegetables and fish curry. Most of these villagers are completely dependent on these two meals for their food intake of the day. We plan to keep hosting these community kitchens in Purba Bardanagar, Damkal, Purba Sridharpur, South Surendraganj, Indrapur, Gobarbhanpur l, Gobarbhanpur ll, and South and North South Surnendraganj.
| | |
| --- | --- |
| Center Name | Daily Meals Served |
| Purba Bardanagar | 120 |
| Damkal | 120 |
| Purba Sridharpur | 120 |
| South Surendraganj | 124 |
| Indrapur | 120 |
| Gobarbhanpur l | 120 |
| South Surnendraganj | 120 |
| North Surnendraganj | 120 |
| Gobarbhanpur ll | 120 |
We hope to keep these community kitchens afloat in all these present villages and also initiate a few more in places where people are still in distress. Your support can help us go a long way!
Donate Now!