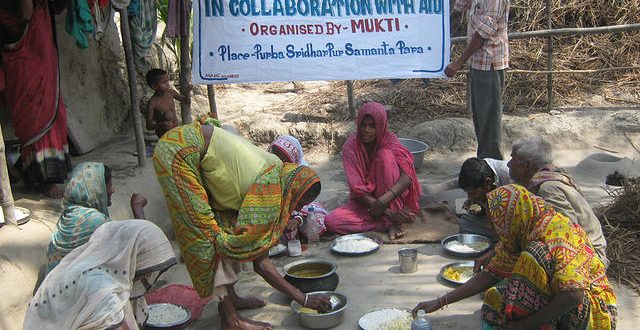 Community Kitchen for Aila Affected in Sunderban
The Mukti Community Kitchen organized an Aila Relief and Rehabilitation program for the people who have been affected in Aila & they have lost there every thing in this. Our primary goals are to focused & support that helpless people who has lost every penny & has nothing in their hand in the area of Sunderban and to restore dignity and self-reliance to those we serve. In all that we do, we strive to serve the physical, social and spiritual needs of the homeless and less fortunate without expectation of recompense but instead out of love and compassion for mankind.
Mukti, in association with AID, organized a 9 months community Kitchen for helpless people. In 4 different areas it has been organized ie in Samantapara – Purbasridharpur, Sarkarpara- Purbasridharpur, Sitalmaity Adibasipara –Dakhinkankandigi, Moira Para- Dakhinkankandigi. In Purbasridharpur the community kitchen has been started on 9th March & will be held for 9 months. In Dakhinkankandigi the community kitchen has been started on 12th March & will be held for 9 months. Mukti is serving around 50 people in the above areas.
Through the community kitchen Mukti's main vision is working cooperatively with individuals, families and communities to facilitate and/or enable initiatives that reduce hunger. To enhance the capacity of participants to acquire skills in preparing affordable meals, providing fresh fruits & vegetables and developing sound economic management practices.
Working with communities to help people learn to feed themselves in an economical, nutritious & sustainable manner, providing food in emergency situations; and creating a supportive network for participants of the programs. Maintaining the highest standards of compassion, integrity and respect, the Community Kitchen Program seeks to achieve its purpose through active participation in a dynamic community of practice. Our aim is to overcome barriers of isolation, poverty, cultural and racial, as we assist individuals and families navigate through financial hardships in a compassionate supportive manner. We focus on building self-esteem, providing practical knowledge and relevant experience.
Mukti is helping a small group of people but a wide range of people in the Sunderban delta who are starving really needs a wide support & help. We need your generous donation & help to continue the relief work in providing support to the people affected by this natural calamity. We urge you to come forward with generous support and spread the word among the people. Any amount will help in this ongoing disaster relief effort.