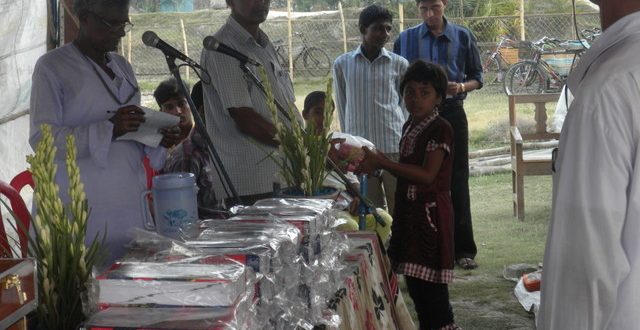 Coaching Center Student Award Ceremony
MUKTI is happy to realize the effort and sincerity of the students of seven coaching centers currently in place at various parts of Sunderban. It is our tradition and scientifically proven fact as well that appreciation & award for the good works further helps human to improve their performance. It is our way to say 'THANK YOU' to those students of our coaching centers who performed well in examinations and kept the promise to work harder for future.
With this believe Student Award ceremony of the students of coaching centers at Nagendrapur and Kankondighi G.P. was held on 13th June, 2012 at the library premises of MUKTI. Students were awarded based on their modesty, performance, attendance. The students with highest mark in Madhyamik examination (standard X) and highest marks in subjects like Mathematics & English were also awarded.
The award ceremony became memorable with the presence of various distinguished guests from every level of society, guardians, MUKTI officials & volunteers and students. Mr. Rabindranath Halder performed inauguration song and Dipika Khan performed concluding song. Students were encouraged by the speech delivered by Honorable Panchayat member. He also expressed his thanks to MUKTI for such an initiative. The veteran teacher and advisor of MUKTI Coaching Centers, Subimal Gurya delighted the occasion with his graceful presence. As always his encouraging words and thoughts helped students to realize the potential and will help them to perform better in future. Honorable chief guest of the function and project coordinator, Mr. Raghunath Bairagi explained the idea and thoughts of MUKTI for arranging these type of award ceremony. He was also able to convince students to work hard and perform even better in near future.
Overall the ceremony became a great success and MUKTI is also happy to recognize the good works. Overall the prize distribution ceremony was courageous, exciting and the place was turned into a joyful land. We are sure that it will encourage the pupils more and more in coming days.