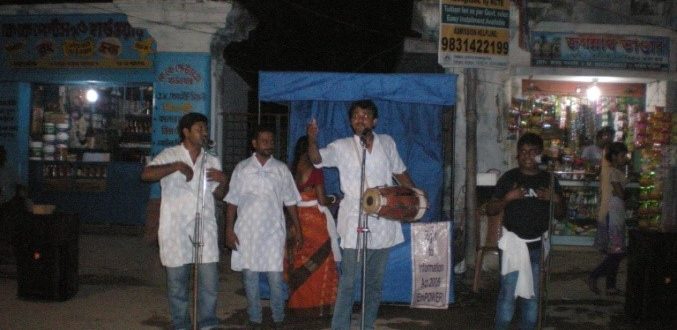 Brief Report On RTI Camp and Street Theatre
RTI Camps are direct linkage with the common people, who come forward with their problems in the camp. After giving a patient hearing the RTI Friends & Volunteers draft RTI applications according to their needs and encourage them to submit the applications to the concern public authorities on that very day. To keep track of the RTI Applications the RTI Friends & Volunteers ask the respective applicants to kindly present a copy of the RTI Application made at the camp after submitting, for future references. Court Fee Stamps, Handbills & Books are also provided from the camps. A day before organizing the RTI Camp; Handbills are distributed, mikes and other traditional modes are used for campaigning in the local area to create awareness in the locality about the proposed camp. Panchayet pradhans, community leaders, teachers are invited to join the awareness camps.
The common people by and large gather in the RTI Camps for getting information especially on their rights to access social security schemes – widow pension, old age pension, Antodaya Anna Yojana, Annapurna Yojana and ICDS, PDS, NERGA other schemes.
Street Theatre is an effective means of communication with the rural people. We have developed a Street Theater group based on local issues and involvement of local people. They disseminate the information on how to use RTI and making local government accountable. They joined us and performed before the RTI camp. Local people gathered in huge numbers to watch their performance. On 20th Day of June, 2016 and 2nd Day of July, 2016, Street Theatre performances were organized by MUKTI along with local CBOs at South Garia GP Area (Baruipur Block) and at Kalikapur II GP Area (Sonarpur Block) respectively.