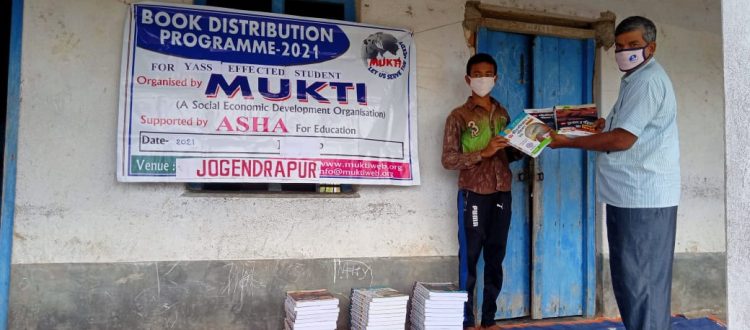 Book Support Program of Mukti to Help the Yaas Affected Students of MSS
Cyclone Yaas has taken a heavy toll on the lives and livelihoods of the people of the Sundarbans as well as the students living in the delta. The rains and floods have destroyed all their books. Due to the Covid crisis the schools are closed for a long time, not everyone is able to avail the benefits of online classes and in addition, the secondary and the school's annual exams have come forward. Most of these students are from low-income families who could not arrange new books for their children in such a short time. Realizing their difficulties, Mukti has started distributing textbooks as soon as possible so that the students of Mukti Support School (MSS) would not be left behind due to a lack of books.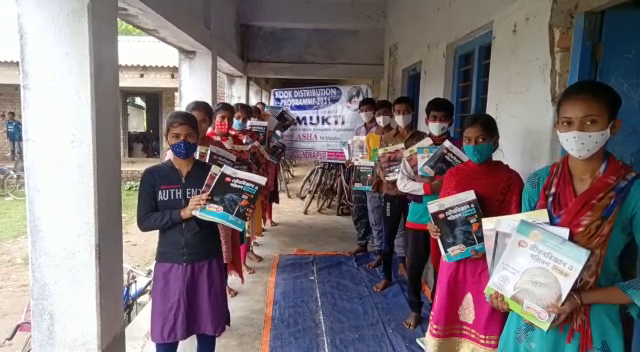 "Asha for Education" stands by Mukti to help students with books. Mukti sincerely thanks "Asha for Education" for helping the students with books free of cost at their difficult times.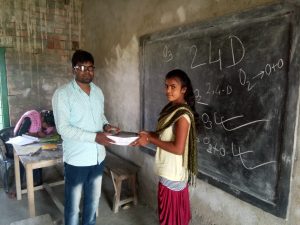 Since the board (WBBSE – West Bengal Board of Secondary Examination) examination is very close, so Mukti has decided to distribute books at first to the Madhyamik examinees. Gradually, books will be provided to the students from class V to IX. Mukti has distributed only costly books like – Geography, Physical Science and Life Science. After the session, the students will have to return these books to Mukti.
The students are overjoyed to receive the books and they express their gratitude to Mukti and "Asha for Education". They said, "Cyclone Yaas ruined our reading equipment just as Covid took away our bright days at school. Our Madhyamik examination is knocking at the door and it will be held in March 2022. We couldn't figure out how to prepare for the exam. But we relied on Mukti and our teachers. We greatly appreciate the support of Mukti and "Asha for education" for helping us with textbooks. We are proud of being the students of Mukti Support School."
Mukti in Association with "Asha for Education" Distributed Text Books to the Class X Students of MSS
| | | |
| --- | --- | --- |
| Name of MSS | Number of Students will Appear for Madhyamik | Number of Books |
| Jogendrapur | 16 | 48 |
| Damkal | 12 | 36 |
| Purba Sridharpur | 16 | 48 |
| Baradanagar | 10 | 30 |
| Purbajata | 10 | 30 |
| Uttarkankandi | 12 | 36 |
| Gilarchhat | 8 | 24 |
| Sonatikari | 6 | 18 |
| Deulbari | 2 | 6 |
| Herambaopalpur | 6 | 18 |
| Dakshmin kashinagar | 6 | 18 |
| Laxmijanardanpur | 4 | 12 |
| Banashyamnagar | 5 | 15 |
| Akshaynagar | 4 | 12 |
| Fatikpur | 10 | 30 |
| Dumki | 4 | 12 |
| Moukhali | 2 | 6 |
| Sonakhali | 5 | 15 |
| Joykrishnapur | 4 | 12 |
| Hingalgange | 2 | 6 |
| 20 MSS | 144 | 432 |