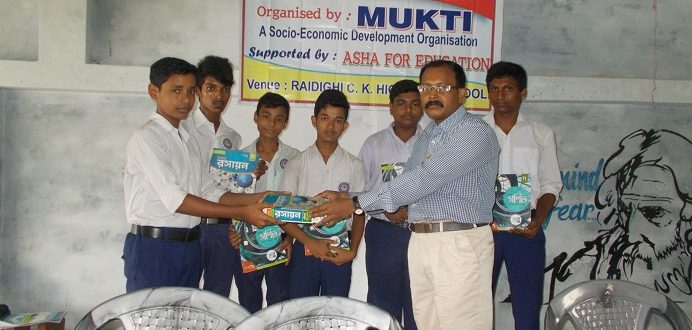 Book Bank Program Nourishing Elementary Education for More Than a Decade
Project Background
The primary focus of Mukti's book bank program is to spread awareness about education, primarily in the remote areas of Sundarban in West Bengal. Most of the families residing here are dependent on agriculture and fishing for their livelihood. Weak financial condition has traditionally compelled these families to keep their children away from basic or higher education. This, coupled with the high cost of text books, force many students to end their education abruptly. To eliminate this issue and encourage more students to pursue their dream of higher education, Mukti launched this project back in 2003. Mukti has slowly but steadily increased its reach by helping more and more needy students from different areas of Sundarban.
Project Reach
Book bank has a collection ranging from class V till Masters degree textbooks. Students who have limited or no access to text books are eligible for the program. All text books are provided on a loan basis for a year.
Mukti has served around 15000 students in the past 10 years and is committed to reach out to a greater number of needy students. In current calendar year, Mukti has already reached out to 4230 students from 14 different schools.
Modus Operandi
Mukti's book bank project has been able to reach an area spread over 200 kilometers. An operational process has been established with the help of school head masters, teachers and volunteers. A small committee has been formed for each of the selected schools, which comprises of the head master, some teachers, volunteers and the Mukti book bank coordinator. The head master of the school is responsible for collecting books from students at the end of each year and redistributing them. At the beginning of each academic year, Mukti volunteers collect the list of authorized text books from each school and decide on purchasing newly added books, if necessary. The committee then verifies the requirements and carries out the activities.
Project Update
Mukti implemented the book bank project among 4230 students in 2016 so far. This number is set to increase by the end of this year. We are thankful to 'Asha for Education' New York for their extended support to us for the successful implementation of the project.
If you want to be part of this project, please feel free. You can donate a set of books to needy students and we will let you know which student received the text book you donated. Therefore, please donate text book by going to this link – Donate text book to needy.