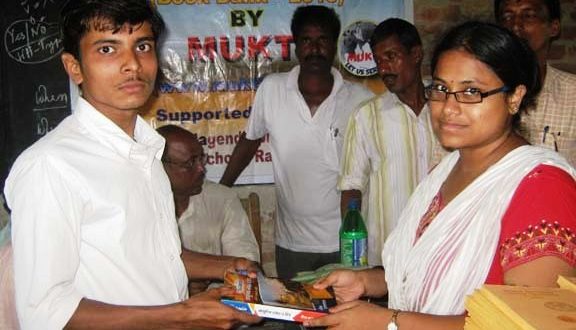 Book-Bank at Jata Nagendrapur High School
MUKTI continuing its book bank program in 2010. On 6th July we organized the "Book Bank" project at Jata Nagendrapur High School to support books to financially challenged students.
The school is located in Pancham Khanda a remote village in the South 24 parganas District of the Sunderbans region of West Bengal. The extreme rural orientation and backwardness of the village can be judged easily from the absence of electricity in the entire village. The village was also badly struck by the disastrous cyclone AILA in May, 2009 and is still struggling to revive itself from the destruction caused by the cyclone to the life and property.
The school is approximately 100 kms. from the nearest Metro Kolkata and can be accessed from Kolkata with the use of multiple transports. Local Trains bound to Kakdwip, Namkhana or Lakshmikantpur would enable one to reach the closest railway station of Mathurapur in one and half hours. Followed by another hours' ride by auto rickshaw to Raidighi. From Raidighi auto rickshaws plying on brick roads would take a person another half an hour to reach the school.
The school has two buildings of two floors each and imparts education to 1400 students including a few physically disabled from classes 1 to 12. The students are largely attracted to the school by the Mid-Day Meal Programme initiated by the Government of India.
Through the Book Bank project 550 books were provided to 110 students who would be appearing for their Higher Secondary Examinations in 2011. To prevent discrimination, the students were chosen on the basis of equality amongst both the genders and physically disabled students were given priority. Students were provided with books of English, Bengali, Political Science, History, Geography and Life Science as per their needs. The event was attended by 101 students and the remainder of students who missed the event was given books the following day.
The event was graced by the following personnel:
1. Mr Nirapada Debnath (Head Teacher , Nagendrapur HS school)
2. Mr. Raghunath (Co-ordinator, MUKTI)
3. Ms. Blanche Mattern (Trainee, MUKTI)
4. Ms. Antima ( Working Member, MUKTI)
5. Mr. Akshay Lahoti ( Trainee, MUKTI)
All the students who were provided with the books were informed that they would be required to submit the books at the end of the academic year in good condition so that the books could be re-used by the future batches and additional new books would be provided to the school to benefit more students in the following years.