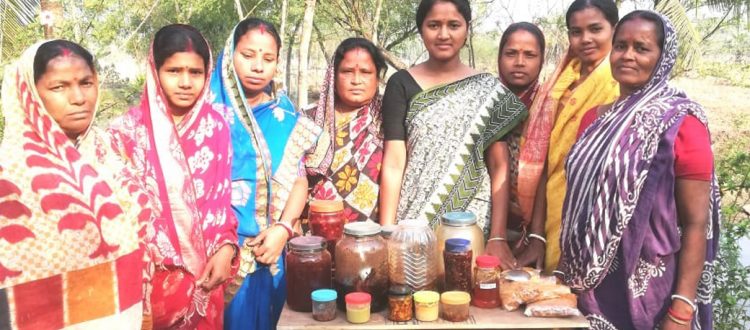 An Inspirational Story of an Unfortunate Mother who Became Micro Entrepreneur out of Homemaker
From an impoverished homemaker to a successful micro-entrepreneur, the story of Nandini Maity, of Kuyemuri village, is an inspiring tale of how women in rural Sundarban can take charge of their destiny.
Mrs. Nandini Maity, Successful Entrepreneur of Food Processing Training Sharing Her Life Story
Nandini lives with her 7 years old son in her parents' house at kuyemuri village under Herembogopalpur GP, Patharpratima Block of Sunderban. She is a 32 years old widow. She get married when she was a class nine student. Her husband used to work as a migrant laborer in Delhi. Her husband passes away in an accident during the lockdown period. Influenced by superstition, she is blamed for her husband's death and is evicted by her in-laws. Her in-laws have refused to take her and her son's responsibility. Helplessly, she returns to her father's house with her baby boy. With no income of her own, she fell into a severe financial crisis. Her son's education is almost going to stop. She has been worried all the time about the uncertainty of the future. To create a better future for her son, she set out to become self-reliant avoiding the entire social stigma.
Destiny has been defeated by her indomitable will. She comes to know about MCDF (Mukti Community Development Fund) from her neighbors. Her fortune is auspicious the day she enrolls her name as a member of MCDF. She is the first batch trainee of (Herembogopalpur branch) Food Processing Training. She finished the training with great commitment. Observing her intelligence, skills, dedication and hard work Mukti selects her as a trainer for the next 2 batches.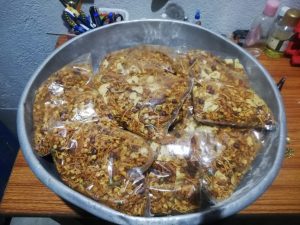 On 5th February 2022, Saturday she opens her first own stall with her 7 co-workers at the crossroad of Kuyemuri Milan Vidyapith Higher Secondary School. Nandini is the expertise and team leader of her group. Every day she and her group members make 15-20 kg of Chanachur (sour, spicy, sweet snacks). They sell the snacks in packets each weighing 250 grams. Besides, Chanachur she also makes jam, jelly and pickles.
Her food products have become very popular among the villagers and she is even getting orders from Kolkata. She now wants to expand her business on a larger scale. She is trying to get the license. Mukti is helping her to fulfill her dreams.
Nandini thanks Mukti to provide her the opportunity to become self-reliant through food processing training. She said that without the help of Mukti she would never be able to earn and take care of her son. Mukti has strengthened her confidence. She will be grateful to Mukti forever.
Women today are readily taking risks only to emerge as successful entrepreneurs. Success stories like Nandini are an inspiration to many; their initiatives have made notable developments in rural development by bringing in employment, skill training facilities to small villages.