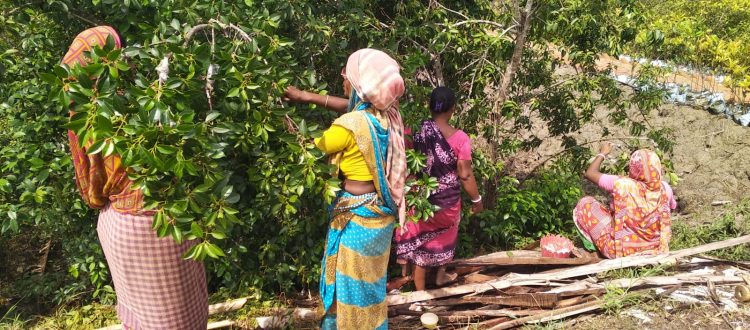 Air Layering on Geoya Trees
A few days ago Mukti started air layering of Geoya tree as an experimental project on 4-5 plants. The effort has been proven successful. As the first step towards this success, Mukti from 22nd July 2022 onwards has started air layering more trees. 6-7 women who work in the Mukti central garden have started air layering on 5-6 Geoya trees on the banks of the canal near the Mukti Library office. 70-80 air layerings have been tied on the trees.
The mucilage of the tree is very poisonous. A drop of mucilage can damage the eyes. In addition, the leaves of this plant are very sharp. The leaves can cause skin irritation. For the safety of the workers, Mukti has provided them with glasses and gloves. They put on those glasses and gloves while working. The workers are working under the "Food for Work" project.
Mukti has plans to open a Geoya nursery in the future.