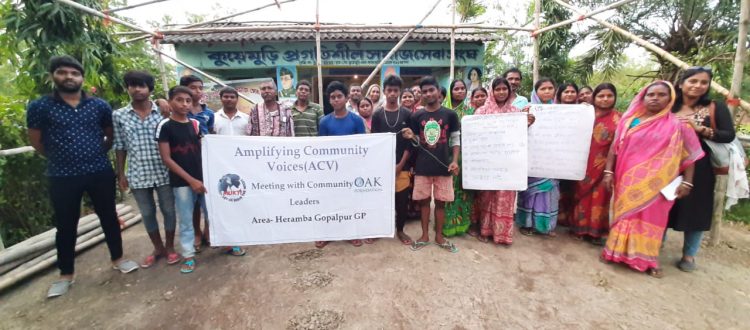 ACV Training on Participatory Action Research (PAR)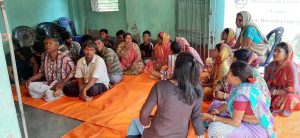 The ACV project is designed entirely by triggering community-led initiatives. According to this design, a group of selected community leaders has been formed and action research is being conducted at Kuyemuri village of Herembogopalpur GP on 6th September 2022. 21 participants including 5 men, 7 women and 9 adolescents boy attended the session.
According to the process of action research, the group members of a certain area together will identify some problems – that can be any problem of that particular area or can be a social issue. After identifying the issues they will discuss them with all the other members of the group and prioritize the problems.
After identifying the problems, before applying to the Gram Panchayat, they have to verify the truth and depth of the problems. The community, themselves must gather evidence and information on the identified issues. For example – flooding due to natural calamities is a common problem in Sundarban as the river embankments are very fragile against high surges. The community will find out the weakest points of the river embankments, the areas and the families that get much affected due to floods.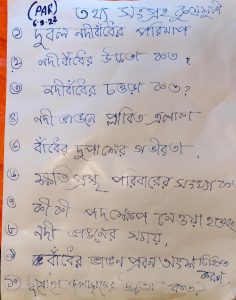 This research work will conduct by forming small groups. After gathering the research works they will analyze the root causes of those problems. To analyze the root causes they can take the help of various participatory tools. By using the participatory tools they will be able to find out the solutions to those issues and can take steps against them. The community will decide what steps to take in solving the problem and will also conduct its risk analysis before taking steps. This process will continue like a continuous circle. If any of the community's activities fail, they will conduct a reflection session and this circle will start again.
PAR is a process through which the community is understood how to solve a problem collectively and how to secure people's participation.
In terms of group formation, care has been taken so that the ratio of men and women is almost equal in each group, in terms of cast, there has been the inclusion of SC, ST, OBC and general category people, livelihood, profession, powerful stakeholders, non-powerful stakeholders – groups with all types of people. Like this, following the PAR process through selection leaders are selected and members are chosen to form a group.