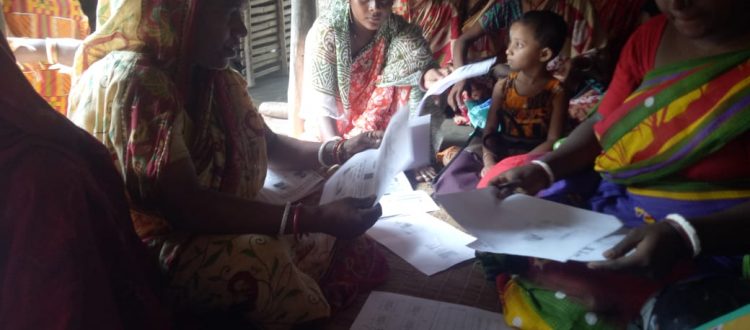 6 New SHGs Conjoint with Mukti at Deulbari in November, 20
Mukti formed 6 new SHGs at Deulbari under Kultali Block in the month of November. The indefatigable efforts of Mukti volunteers have made Mukti MCDF so popular that women from various regions are showing their irresistible interest to join as members of Mukti MCDF.
At first in Deulbari Branch there were 11 SHGs and now 6 more groups have joined in a single month. At present there are 170 members only in Deulbari Branch and total 32 SHGs in Kultali Block.
The aims of Mukti:
Mukti SHGs are formed to make women self-supportive so that they can work from home and thus can earn for themselves and also for their family members.
If any member keeps her savings to Mukti for 6 months, on the 7th month Mukti will give that member three times on her savings. That member will be given 1 year time to return back the loan amount to Mukti at 1% interest. Mukti will pay back the interest amount to them by means of commodities. But this facility Mukti will provide only to those groups who have completed 3 years as Mukti SHG.
Mukti supports their children with necessary educational equipment like books, stationary items etc. The students can get tuition from Mukti Coaching Centres.
Mukti provides free training sessions for all its members.
In future Mukti will create more SHG groups throughout all its action areas.