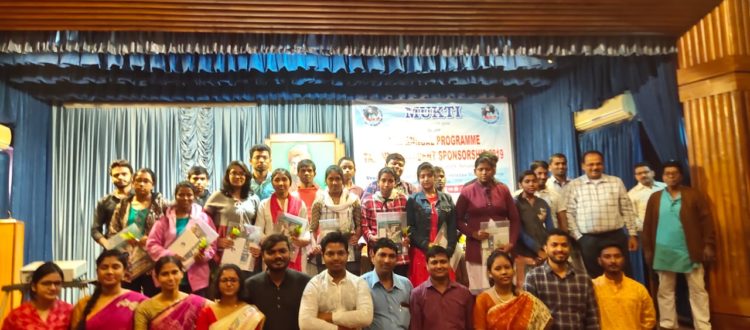 14th December 2019: MUKTI Announces 14th Batch of TSS Scholarship 2019
In order to help the underprivileged with their education and to reduce dropouts due to financial problems; MUKTI does a timely distribution of scholarships to such students in need.  This year MUKTI organized its 14th Talented Student Sponsorship Annual Programme on 14th December 2019 at the Srima Sarada Hall of Ramakrishna Mission Ashrama, Narendrapur from 11.00 am.
The event was designed and organized by TSS continuing and alumni students. The program commenced with welcoming the guests, sponsors and students. The event had dignified personalities from education field and many volunteers who had been actively involved with social work. A total of 115 students out of which 23 of Medical, 8 of Engineering, 43 of Science and 41 of General received sponsorship for the year 2019-20 in recognition of their merit and will power in the face of economic hardship. 32 new students – Science 13, Engineering 1, Medical 5 and General category 13 students were selected and felicitated for sponsorship for the current year.
Honourable guests like Mr. Chandan Kr. Maity (Principal, Krishnachandrapur High School) and eminent sponsors, Mr. Asim Das, Mr. Sauvik Chakraborty, Mr. Avirup Banerjee and Dr. S.K.Bagchi graced the occasion and gave encouraging speeches and spoke about their association with TSS and Mukti. Mukti Trustees, Mr.Sankar Halder, Mr.Timir Baran Bhattacharjee, Mr.Abir Biswas, Mr.Rabin Saha and Mr. Debabrata Halder were also present in the programme. The presence of Supriya Mandal, created a good impact on all the students. Supriya, who is a former TSS student and is currently sponsoring one student since last 2 years. He encouraged all students to become good human being and contribute in their own ways for social cause.
Mr. Sankar Halder, Founder-President of Mukti expressed heartfelt gratitude to everybody in the programme for their presence. He encouraged students to become aware of the social issues and come forward for contributing in social cause. Another successful year for Mukti for welcoming the students for sponsorship by patrons and eminent sponsors. Felicitation of the new students for the new academic year with MUKTI marked the end of the programme.