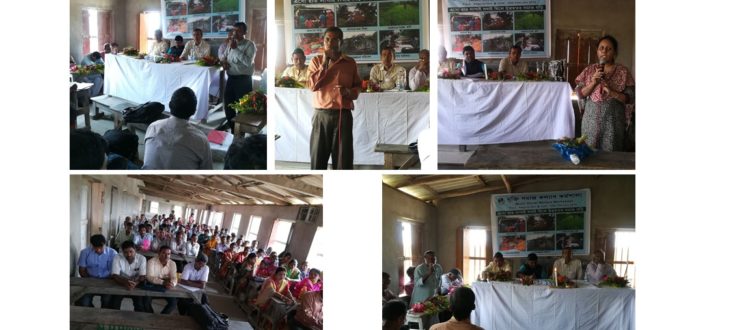 Workshop where the Mukti family assembled for a day: volunteer and employee came together at Raidighi office
"Happiness is not in the mere possession of money; it lies in the joy of achievement, in the thrill of creative effort"
Mukti values time. Mukti values people. We were honoured to felicitate and celebrate the good work done by our employees and volunteers. Please read below the list of awardees and their hard work:
Best entrepreneur: 1-Saraswati Chatterjee received the award for making and selling soft toys. She did not stop there, rather gave training to other women in this business. 2- Sharmila Mondol for making beautiful clay dolls and selling them in the market successfully. Now she is able to provide decent financial support to her family.
Best teacher: Bijoy Mondol got this award for his dedication towards his students and punctuality. He also leads all the activities organised by Mukti and coaching centre.
Best volunteer: 1- Chittoranjan Haldar for committedly performing his duty as a member of working committee and also helping in all the field events organised by Mukti. 2- Nimai Pradhan for acting as an Advisor in Mukti. He has an active participation in all the rural programmes of Mukti.
Best ambassador:1- Subimal Gurya. He was an advisor in Mukti but now working with coaching center. He is also a sponsor to the TSS program. 2- Rajani Kanta Kapat- He is a businessman but took keen initiatives in all kind of work carried out by Mukti. He played a pivotal role in organising the Mukti fair.
Best project: Talented student sponsorship (TSS) is the Mukti's most successful project. It is one of the oldest project with significant outreach. Also, the work is streamlined and being managed in an automated manner.
Best employee: Sourabh Kayal for completing the assigned work always in time. As a self-initiative, he has involved himself in many projects of Mukti.
Best farmer: 1 – Sunil Jana for successfully doing organic farming for last few years. He uses pure manure in farming made by himself. Over the years he has increased productivity significantly. 2- Achinta Saha- He not only does organic farming but, also trains the other farmer in many places such as Ramakrishna Mission, Bidhan Chandra Vidyalay etc.
Most difficult project: Mukti Community Development Fund (MCDF). Rural women learned to be independent through the MCDF project. From an execution point of view, it involves the longest stakeholders and professional finance management.
Best MCDF friend: 1- Anupam Mondol. He not only created 33 groups in a year but also running them successfully without any operational issues or loan defaulters. 2- Arpita Purkait. She created 24 groups in a year. She skilfully organised these groups and catered to the training needs of the branches.
Best women leader (MCDF): 1- Manasi Halder for doing her work with dedication. She arranges meeting, keep the register up to date and maintain friendly relations among her colleagues. 2- Anima Mondol- She directs the Central forum of the self-help group, safeguards women rights and actively takes part in all the Mukti meetings.
The workshop was a grand success. Not only the award but the one to one interactions, the group discussions and the actions plans are what we cherish about.  Concluding speech was given by our president Sri Sankar Haldar. All participants returned home with a smile and satisfaction.