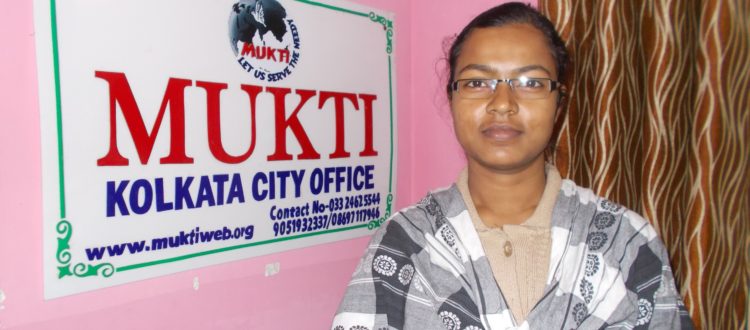 Success Story of Bratati Mukherjee under TSS Program
Bratati Mukherjee, Mukti's alumnus student of Talented Student Sponsorship Programme of the year 2014, made Mukti proud.The student from Raidighi belongs to a nuclear family comprising of father, mother and a younger brother. Bratati was always very sincere and hardworking since her childhood, and pursuing higher studies was her only ambition. Her father, a retired private service holder in a small company, and mother, a housewife, were her two support systems, and her main driving force.
It was in 2008 that she found herself faced with discontinuation her studies, when her family was no longer able to bear her educational expenses. She admired her brother, who was an equally good student, but given the meager family income, the family had to make the difficult choice of picking only one of the children for further studies. That is when Bratati came to know about Mukti's sponsorship programme through the local villagers and immediately applied.
Finally, Mukti's long term patron, "Aiducate Now" selected her for sponsorship in the same year (2008). She was then in Std.XI. The sponsorship continued till her post-graduation in English in 2014.
Today, she is very happy to share this recognition with her sponsors, and believes that without the support from Aiducate Now, she would not have been able to go so far.
Bratati is currently working as an English teacher in a renowned private school in South Kolkata, a position she has held since almost 2 years now. She also provides private tuitions to students in the subject and is a major economic support for her family too.
Bratati is also very committed to social service and has provided voluntary support to an NGO as well. Her participation and enthusiasm in Mukti's TSS Annual Programme was beyond words.
Since her involvement in Mukti, she also pledged to serve the people by working in an NGO and has currently enrolled in Masters in Social Work from an open university.
Mukti is very proud with her association and commitment and has assured all support to her in future as well. We wish her all the best for her future and also wish that she accomplishes her dreams successfully.