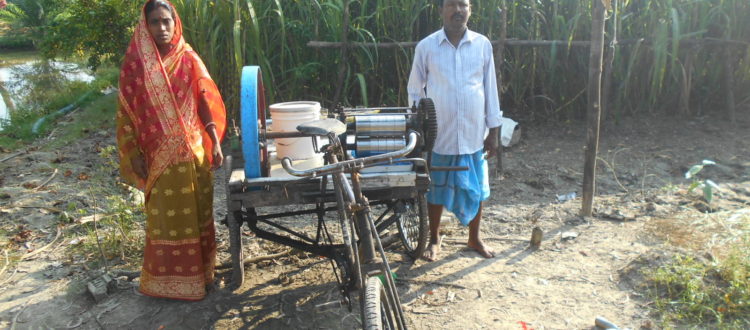 Shibani Hazra's Success story, Benefited by Microfinance Program (MCDF)
SHIBANI HAZRA
Village and Post Office: Nagendrapur
Thana: Raidighi
District: 24 South Parganas
Shibani is associated with MCDF since November 2012. She took her first loan on Jan 2014 for sugarcane agriculture. She took her second loan on August 2014 for sugarcane agriculture and purchase of water pump. She took her third loan on February 2015 for furthering her agriculture and for purchasing cane crusher machinery.
Upon receiving the loan from MCDF she utilized her 1 bigha agricultural land for sugarcane farming. She bought machinery for water supply and later, a cane crusher machine. Initially, she used to earn from selling sugarcane. Later, upon buying the sugarcane crusher machine, her income increased. She is able to utilize entire 1 bigha agricultural land for sugarcane farming, and her current monthly income is Rs.5000 to Rs.6000.
Before taking the loan from MCDF, she used to utilize the 1 bigha land for growing vegetables, which was mostly dependent on natural conditions. Expenses of fertilizers were high. Her husband was ill, and hence could not contribute to the agricultural work. Her association with Mukti became very productive, when she got loan on minimal interest rate. This helped in buying the sugarcane crusher, and her financial condition improved.
Their family consists of husband, wife, 3 daughters and 1 son. The elder daughter is 19 years old, and studies Pathology in Para medical division. Her son, upon completion of Higher Secondary exam, is currently studying for IIT entrance exams. Her second daughter studies in class 8 and the younger daughter is studying in class 5
MCDF program has helped Shibani to become a confident woman entrepreneur. Her success story is an example for other women of rural Self-Help group. Thanks to her social investor who lend the money to Shibani to achieve this success. If you want to be a social investor and be part of this success story please visit MCDF program page and our donation page.