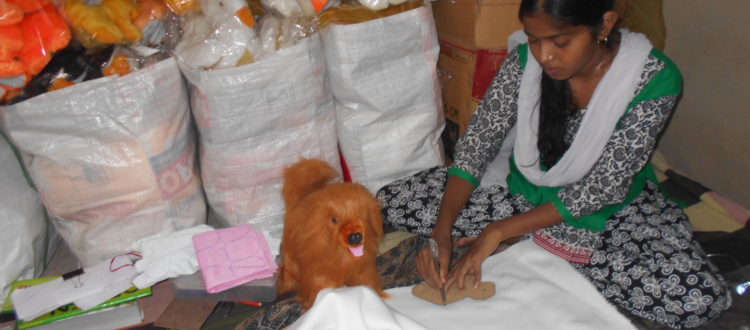 Saraswati's hard work and dedication made her successful entrepreneur
SARASWATI CHATTERJEE
Village and Post Office: Nagendrapur
Thana: Raidighi
District: 24 South Parganas
Saraswati is associated with MUKTI since December 2012. She took a loan of Rs.10000 for doll making business. Her association with MUKTI proved to be advantageous and successful. She now attends many meetings at MUKTI and this uplifted her confidence. She not only successfully learned about doll making, rather now she is training many pupils at many MUKTI centres for doll making work. She is able to expand her business and as a result of her expertise; she is getting invitation and participating in Government funded Melas.
Before her association with MCDF, her financial condition was quite poor. Other than puja celebration time, her income was almost negligible. However, upon her association with MUKTI, she is able to make dolls and have a steady flow of income.  Upon receiving the loan, she is able to strengthen her work. Currently her income is Rs.2000; however, this will increase in the future.
Her family consists of 5 members, her father, mother older brother Narayan, who works as a daily labour. Her younger brother Madhav makes dolls as well.
MCDF program has helped Saraswati to become a confident woman entrepreneur. Her success story is an example for other women of rural Self-Help group. Thanks to her social investor who lend the money to Saraswati to achieve this success. If you want to be a social investor and be part of this success story please visit MCDF program page and our donation page.