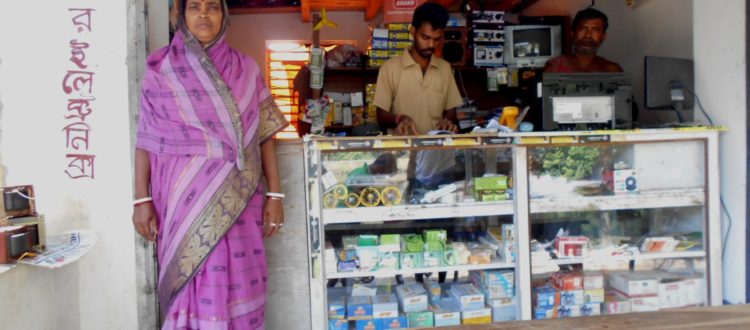 Rekha Bairagi's success story, benefited by MCDF
REKHA BAIRAGI
Village and Post Office: Dumkol
Thana: Raidighi
District: South 24 Parganas
Rekha Bairagi is associated with MCDF (MUKTI Community Development Fund) since August 2015. She took a loan of Rs.10000 to open an electronic store February 2016. Her older son is settled separately and three of her daughters are married. Currently her younger son is taking care of the shop management and monthly income from the shop is Rs.4000.
Earlier she used to work as a household help in Kolkata, as her husband is ill and unable to work anymore. Her younger son used to learn electronics mechanic work under a different shop owner, earlier. Upon receiving the loan, she is able to set up a store for her son, and both her husband and son are taking care of the shop management.
Upon her association with Mukti she, feels greatly encouraged and privileged. Recently she bought a Xerox machine, and is expecting it to be really helpful to increase their monthly income.
MCDF program has helped Rekha to become a confident woman entrepreneur. Her success story is an example for other women of rural Self-Help group. Thanks to her social investor who lend the money to Rekha to achieve this success. If you want to be a social investor and be part of this success story please visit MCDF program page and our donation page.