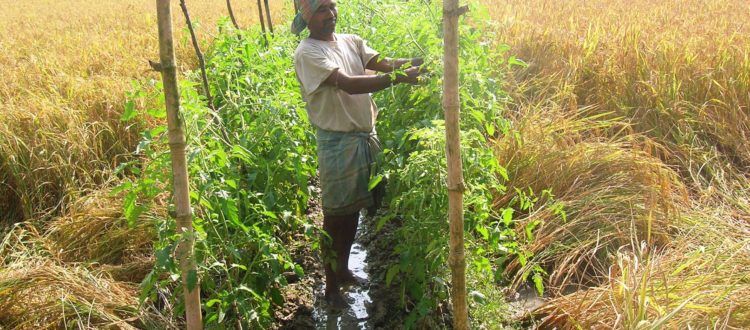 Prabhash Bhuiya's story of organic farming
Name: Prabhash Bhuiya
Father's name: Moni Mohan Bhuiya
Village + Post Office:  Purba Sridharpur
Thana: Raidighi
District: South 24 Parganas.
Occupation: Farming
Family Member: 5
Farming land owned: 3 Bigha.
Prabhash grows various kinds of farming crops throughout the year. At present he is growing rice and tomato in his land. Few years back, when the disastrous Aaila cyclone had hit West Bengal all his farming land became barren. At that juncture of his life he came in close contact with MUKTI and learned about organic farming. Upon right implementation of organic farming he was able to convert the badly affected barren land into a promising crop yielding land. Now he is known in his village as a successful farmer. Currently he is inspiring other farmers to use organic farming too thus becoming a true example of success and leadership.
With the help of other NGO's MUKTI regularly conducts training organic farming techniques. This is MUKTI's aim to build a strong knowledge-base on organic farming and sustainable agriculture techniques among needy farmers of India. You can also be part of that by sponsoring such training. Visit our donation page for more details.