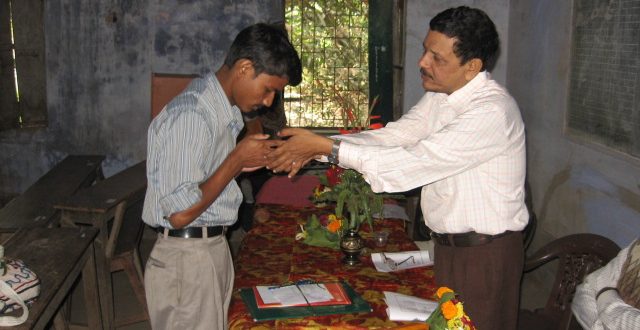 About Project
Objectives
Details
News
Document Gallery
Photo Gallery
Total 55 students, (40 students from 24 Parganas(South) and 15 studetns from Bankura) were sponsored in this year.
Lack of education is one of the major causes of economic backwardness and helplessness of the people in Sunderbans, similar to the poorest regions of the world. Towards a goal of eradicating illiteracy in the region, and to encourage young talented children not only to complete school with good grades but also to go for graduate studies, MUKTI has been facilitating sponsorship of talented students.
The sponsorship is designed to create a long-term relationship between the sponsor, and the students being sponsored, with MUKTI serving as a bridge between the two parties. To provide stability to the sponsored student, sponsors are requested to consider long term sponsorship over several years until these students graduate. The sponsor is given direct contact with the students through exchange of letters, and is also encouraged and invited to visit the students in person.
Selection Criteria:
The selection of students is based on both means and merit. The following criteria are used for selecting students for TSS funding:
– Past results from school exams and feedback from their respective school teachers are indicators of the student's ability.
– Local knowledge and feedback is utilized to appraise a family's financial situation.
The approximate annual income of the family is used an indicator to determine the family's inability to provide adequate financial support for their child.
Budget Details:
Budget Details The assessed annual budget per student is 5,000 INR. This amount takes care of the following:
# All required textbooks will be purchased and provided to students by Mukti.
# Other required expenses like school fees, exercise books, pen, pencil etc will be provided.
# A school uniform will be provided to each student.
# A small amount is provided to each student on a monthly basis to provide for some basic necessities such as nourishment (INR 100).
Project Management & Feedback
Mukti will be gathering feedback on a routine basis through its network of volunteers. This activity will be coordinated by Mukti's regional Education Coordinator. Performance indicators such as updated school results will be gathered; feedback from school teachers will be solicited as necessary. Mukti will track on-going needs for each student and will communicate this to sponsoring individuals/agencies to ensure that there is no interruption in a child's' education. Mukti will also elicit local feedback on the financial ituation of the families.