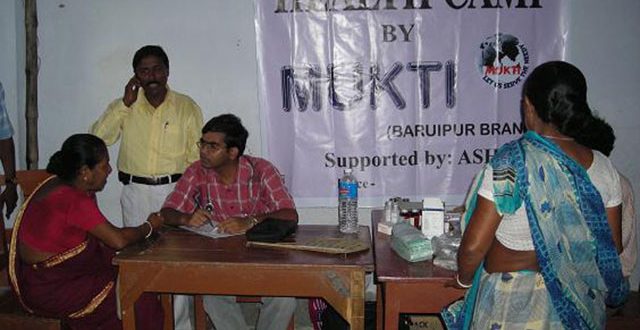 About Project
Objectives
Details
Projects underlined
Activities
Photo Gallery
Document Gallery
For livelihood reforms of Aila affected villages in Sunderban, it was indispensable to provide health care support for vulnerable groups. For this, Mukti organized medical camp on treatment and counselling on water born diseases, skin and other dreadful diseases in 2009 at Aila stricken communities e.g. Haripur, Madanganj and Chandanpiri in Namkhana Block of South 24 Parganas involving volunteers and doctors. With this treatment Mukti distributed medicines and ORS as well as NFI (Non-Food Items) for Aila affected people. Mukti also distributed medicines, ORS and NFI at Nagendrapur GP of Mathurapur II Block in South 24 Parganas.
To promote improved health, safe water and sanitation in Sunderban by developing awareness and skills and provisioning services towards the grassroots.
Since Aila, a dreadful cyclone attacked Sunderban in 2009 causing thousand of death, damaging resources and devastating infrastructures (water and sanitation hardware), Sunderban people are sustaining with health hazards. The context is still having worst impact making livelihoods impasse and clichéd in Sunderban. Accordingly the report of 2010 on Future Health System Research Program at Sunderban by Institute of Health Management Research, it views that general morbidity rate is higher than the state average. A dual-burden of communicable and non-communicable diseases largely happen in Sunderban with the highest risk of arthritis diseases i.e. 42.4% that is higher than the corresponding state average (35.3%) where women in Sunderban share disproportionately higher burden of ailments than male counterparts. About half of the children (below 5 years) are chronically malnourished leading to their vulnerability to respiratory and gastro-intestinal ailments.
In geography, the communities remain inoperable infrastructures for recurring disasters causing incommunicable context from service catchment areas thereby causing service unavailability. Unawareness and social exclusion impedes access to service provision resulting in effete livelihoods. Contemplating the contexts, Mukti set up Health, Water and Sanitation program.
1. Awareness building on health and sanitation and public-private-partnership development for provisioning health, water and sanitation support.
2. Climate resilient water and sanitation hardware installation and skills development on Water and sanitation management.
3. Community led WATSAN practices, community empowerment and capacity building.
4. 100% sanitation approach to Sunderban communities.
5. Reproductive health, sanitation and personal hygiene practices for women and adolescents.