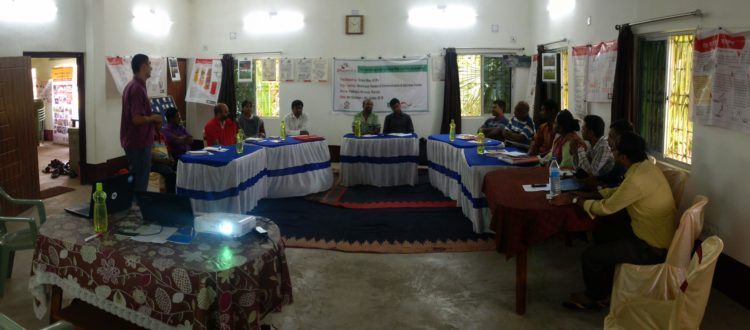 Participatory Guarantee System (PGS) training attended by Mukti in Purulia
What is PGS?
The International Federation of Organic Agriculture Movements or IFOAM defines PGS as "Participatory Guarantee Systems are locally focused quality assurance systems. They certify producers based on active participation of stakeholders and are built on a foundation of trust, social networks and knowledge exchange." The farmer gives assurance that the production process is organic and free from manufactured chemicals [fertilizers, insecticides, herbicides, hormones, etc] and lives by his word of honour. Therefore, the quality assurance standards are harmonized by the PGS Organic Council, and permit the use of its PGS label on a product as a mark of quality.
Mukti's Sustainable Agricultural Movement (SAM) team attended a training on PGS at Purulia in West Bengal. The meeting was arranged by Development committee service centre Purulia branch for 3 days starting from 4th October at Kroshjuri village, Kashipur, Purulia. The training was led by Mr. Nachiket Udupa and Mr. Ashish Gupta 'representatives of Regional Council – Organic Way of Life (OWL)'. The discussions which centred round are:
Introduction on PGS
Need of PGS
Compulsion of PGS certificate for the organic farmers
Requirement to make groups among the farmers
Field visit to nearby village
Had Peer Appraisal (Peer appraisal is a type of feedback system in the performance appraisal. The system is designed to monitor and improve the job performance. It is usually done by colleagues who are a part of the same team)
All the participants of the meeting were very happy to gain the knowledge on PGS. Mr. N Udupa  & Mr. A Gupta promised  to visit Mukti organic farming fields in Raidighi.