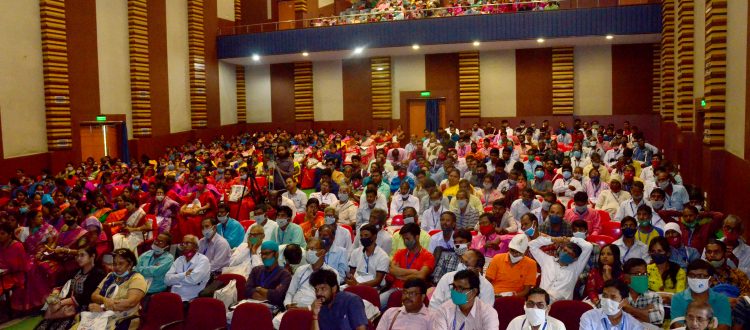 Participation of 700 "Mukti Sathi" and Partners Made Mukti 9th General Meeting A Grand Success
Mukti celebrated 16th foundation day and conducted 9th General Meeting on 16th March, 2021 at Jaynagar. It was a spectacular event organised at Shibnath Sastri Sadan with the participation of 700 people including Mukti volunteers, staffs, employees and hundreds of well wishers of Mukti. The program started at 10:30 AM and ended at around 5 PM. People from different parts of the districts came to meet each other and thus made it a successful event.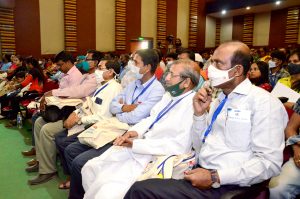 Mukti Board of Trustees, Jaynagar Municipality Chairman Mr. Sujit Sarkhel, special guest Mr. Gautam Chowdhury, Auditor Mr. Animesh Mukhopadhay, Mr. Nitin Kotak from Kolkata Foundation, USA, Mukti Ex Trust Board members Mr. Anindya Sen, Mr. Madhusudhan Bairagi, employees from Mukti Garia office, 7 Mukti Jatragachi Center volunteers with their Co-ordinator Mr. Rabin Saha, people from various organizations, other NGOs, local stakeholders, representatives from Banks, media reporters ornate the general meeting with their gorgeous presence.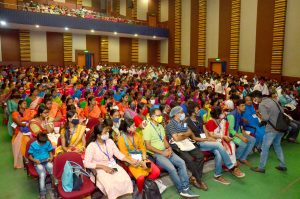 270 MCDF members from 27 branches  (Krishnachandrapur, Raidighi -1,Kankandighi, Laxminarayanpur, Sonatikary, Sridharpur, Koutala, Radhakantapur, Debipur, Jalaberiya, Kakdwip, Sagar, Namkahana, Manirtat, Sridharnagar, Raidighi – 2, Purnachandrapur, Canning, Basanti, Kumrapara, Baikunthapur, Bhubaneswari, Deulbari, Patharpratima, Jaynagar – 1, Herambogopalpur and  Mandir Bazar) along with their Presidents attended the general meeting.
74 teachers from 18 MSS centers (Damkal, Purba Sridharpur, Barada nagar, Jogendrapur, Uttor Kankandighi, Purba Jata, Gilar Chat, Dumki, Canning, Delubari, Joy Krishnapur, Sonatikari, Dakshin kashinagar, Akshaynagar, Sonakhali, Purandarpur, Hingalganj and Moukhali) were participated in the general meeting.
10 MAMA School teachers with their supervisor were present at the general meeting.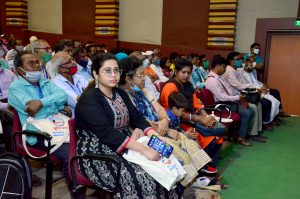 49 organic farmers from 7 villages ( Damkal, Nagendrapur, Baradanagar, Purba Sridharpur, Dakshin kankandighi, Purba Jota and Paschim Jota) attented the general meeting.
It was not just a formal meeting, but also was a good opportunity to communicate with the family members of Mukti. Mukti family members were all delighted meeting each other and it was grand event which proved that Mukti has not only grown immensely in last 2 years but growth will be faster and better in the next 2 years.