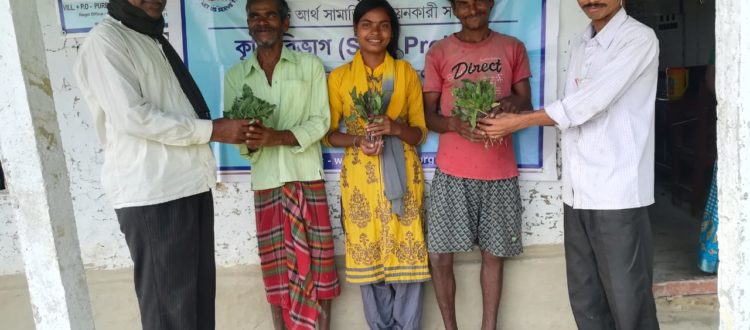 Mukti support with vegetable seeds & seedlings to the Adivasi families
Mukti continue supporting with indigenous and organic vegetable seeds & seedlings to Sunderban farmers who are mostly from background of Adivasi families.
Mukti through SAM (sustainable agricultural movement) support the landless Adivasi families with organic seeds & seedlings twice a year – rainy and winter season. Not only they are helped with vegetable seeds but also with the material like pot, bucket sack etc to grow these seedlings. They are also trained to use organic manure.
Continuing the service on 10th November, 2018, Mukti distributed different winter vegetables seeds like – carrot, spinach, french beans, green peas etc. to 250 Adivasi families who are associated with Mukti for the last 3 years, at six localities of Nagendrapur village in South 24 Paraganas district.
Through this seed distribution program – Mukti aims to make their future sustainable. Mukti also mentors them on farming and ways to take care of the seeds. Mukti SAM (sustainable agricultural movement) team felt satisfied and happy after a hard day's work – seeing the broad smile on the Adivasi people face, as they were returning home.