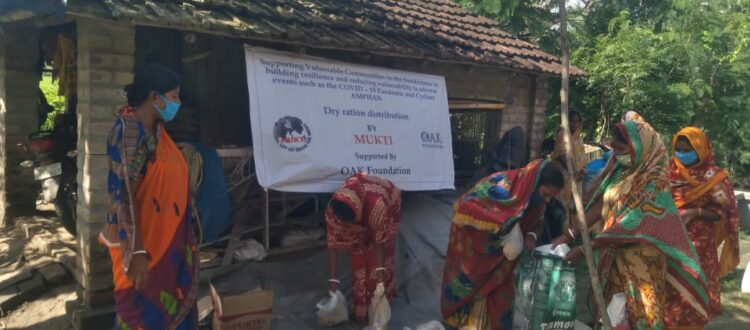 Mukti Provides Food Ration to the Covid -19 and Amphan Victims of Mathurapur II and Patharpratima Blocks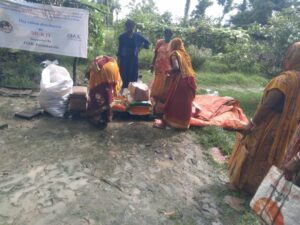 The ongoing lockdown, in the wake of the covid-19 pandemic, along with cyclone Amphan, has affected the lives of some of the most vulnerable communities across the country, such as migrant laborers, waste pickers, daily wagers, household helping maids and so on. It is to cushion the impact of the crisis on these sections, and to ensure their access to essentials, Mukti a not-for-profit organization is sending out appeals for funds.
Amphan and Covid-19 had impacted their families so hard that they were stuck with no work, no proper place to live and no food to eat.
Mukti stepped in to help and began distributing dry ration kits to the victims. Through the support of the "OAK Foundation", Mukti was able to reach 400 families at Radhakantapur. "OAK Foundation" is still providing dry ration kits to the victims of the disaster to ensure they have food to eat.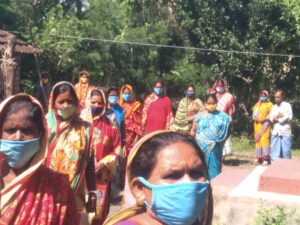 One of the beneficiary among those vulnerable said "I am very grateful to Mukti and OAK Foundation for their support for my family during this difficult time. It is really a blessing for us to receive help like rice, dal, mustard oil, salt, soybean and biscuits. On behalf of everyone from my village, I would like to say thank you. I thank the volunteers of Mukti who carried out the distribution kits."
There are several relief programs that are running within the 10 Blocks of Mukti action area that have helped thousands of vulnerable through last few months, and will continue in future days also.
The areas are listed below:
| | | |
| --- | --- | --- |
| Mouja Name | Block | Beneficiaries |
| South Kasi Nagar | Mathurapur II | 60 |
| Herembogopalpur | Patharpratima | 40 |
| Kuemuri | Patharpratima | 80 |
| 3 Moujas | 2 Blocks | 180 |