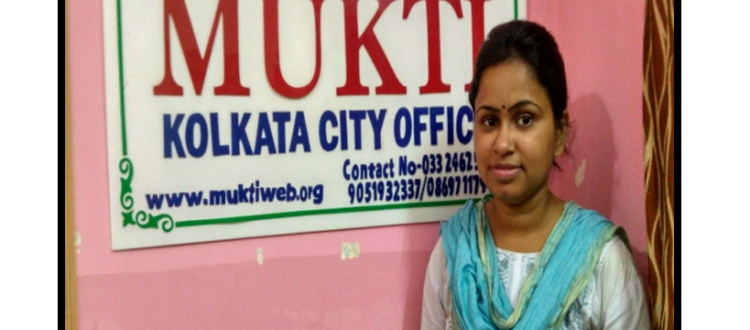 Mukti mentors TSS student to stand on her own feet
Tanushree Middya hails from a remote village named Purbajata in Raidighi, West Bengal. Her father is a farmer and mother unable to work due to illness. She has two elder sisters who got married. She had a dream to become a doctor and help her family in future. She scored more than 90 in Zoology always at school and was preparing well for Medical examination. However, her father could not afford the huge expense of medical studies.
Mukti TSS (Talented Student Sponsorship) team mentored her on new avenues related to medical sector that are upcoming. In 2016, she was selected for Diploma in Neuro-electro-physiology (DNEP) in Bangur Institute of Neuroscience. She has completed her course successfully in August 2018. Since 2014, when Tanushree was in Class XI, Mukti TSS team got her a sponsor Mr. S. Bhattacharyya for her education.
Currently, she is an intern till February 2019. On a part time basis, she is assisting a senior. This is helping her to understand practical tasks in the lab. She is also getting an honorarium to meet her expenses of staying in Kolkata.
As Neuro-electro-physiology is a fast developing, Tanushree wishes to apply for government jobs post her final results. Till then, she is confident to get a job in a private hospital in Kolkata and extend financial support to her family. Once she is comfortable in a job she wishes to support a girl for education like her through Mukti.
Tanushree would be an important TSS alumni. She is a panellist for the TSS student interview and planner of the TSS Annual Programme. Mukti is proud to see her commitment and association.
We wish her all the best for future and pray that she accomplishes her dreams.