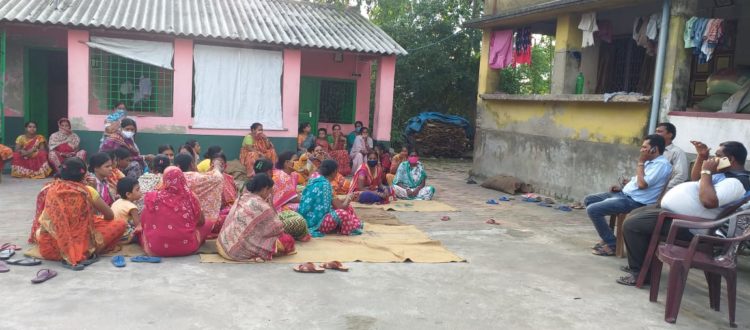 Mukti Increases Members in SHG to Spread across Women Empowerment
Women's Self-Help Groups (SHGs) have increasingly been used as a vehicle for social, political, and economic empowerment as well as a platform for service delivery. SHGs are "membership-based organizations" whose members provide each other with mutual support while attempting to achieve individual objectives through access to savings and loans and linkages to banks as well as collective objectives through community action. Each SHG typically consists of 10–12 poor women from similar socio-economic backgrounds who live near each other, meet regularly, and save small amounts of money in a common account.
However, these groups are increasingly being leveraged by Mukti as a platform for reaching communities to strengthen rural livelihoods, improve women's empowerment and agency, increase demand for – and accountability of – public entitlements, and deliver information on health and nutrition.
Old members of Mukti women SHG –
Gram Panchayat
Block
Number of SHG 
Number of Members
Purba Sridharpur
Mathurapur II
215
2150
Raidighi I
Mathurapur II
135
1350
Raidighi II
Mathurapur II
184
1840
Radhakantapur
Mathurapur II
110
1100
Sonatikari
Jaynagar II
112
1120
Kultali
Kultali
156
1560
Herembogopalpur
Patharpratima
135
1350
G-Plot
Patharpratima
47
470
8 GPs
4 Blocks
1094

Groups

10940

Members
New members of Mukti women SHG –
Gram Panchayat
Block
Number of SHG 
Number of Members
Sridharnagar
Patharpratima
110
1100
Purnachandrapur
Patharpratima
320
3200
Krishnachandrapur
Mathurapur I
579
5790
3 GPs
2 Blocks
1009

Groups

10090

Members
At present Mukti has 2103 SHGs with 21030 team members.
They have started taking loan from banks and are engaged in the Mukti nurseries. In near future Mukti has plan to increase the number of women SHG in Sunderban.