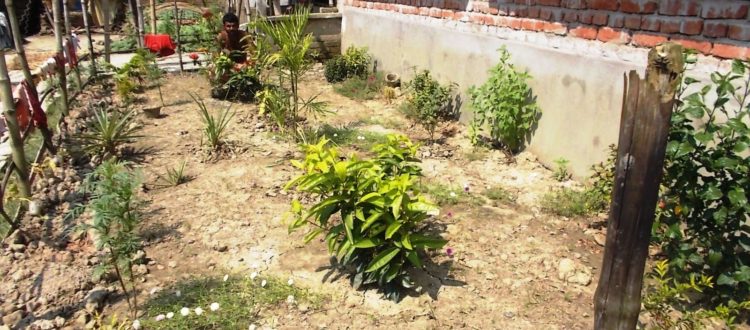 MUKTI decorated Nilratan's front yard with varieties flowers and fruits
Name – Nilratan Halder
Village+ Post: Paschim Jota
Thana: Raidighi
District: South 24 Parganas
MUKTI carried out a survey in March 2015, and as an outcome, took a pledge of setting up flower and fruit plantations in front of houses next to the roadside.
It was found that there was an open space in front of Nilratan's house, where there was no greenery present. Some flower and fruit saplings were provided from MUKTI to Nilratan. He ensured that he took good care of the plants, and that they grew healthily. Slowly the garden was filled with flowers and fruits, thus bringing about a lot of change in Nilratan's immediate environment. The development was not only beautifying and aesthetically pleasing, but also environmentally friendly; a source of fruits and flower for the family and neighbours.
Now, his neighbours are also inspired to beautify and develop their surroundings in association with MUKTI. This in turn is also improving their financial, social and environmental stature.