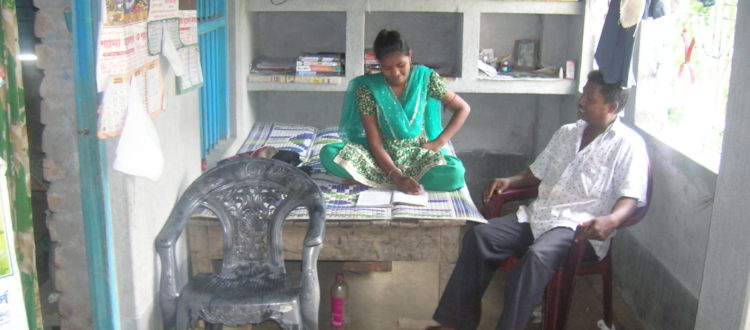 MUKTI Coaching Centre encourages Mousumi to continue education
Mousumi Chaudhari daughter of Mahadeb Chaudhari, a student of Santhosh Ghorai Balika Vidyalaya is about to appear for Madhyamik exam year 2015-16. As a student she is mediocre. At the beginning of the session everything started off well, she used to be regular at the Daktar Gheri coaching centre and in school. However, since the month of June the situation began to deteriorate. Her attendance at the coaching centre dropped significantly. Her progress in study course was stalled and got negatively impacted; her attendance in school was bare minimum.  Upon close enquiry with her classmates, it was known that her father is significantly ill. He had to visit Vellore for check-up and treatment. In such a situation due to financial constraint her mother had to take up a work in Delhi as a household maid servant. In need of the hour, to take care of ailing father, younger brother, maintenance of household chores such as cooking and cleaning, Mousumi is severely tied up. She is almost on the verge of giving up her education. Mahadeb Chaudhari was called at the Daktar Gheri coaching centre, however he did not come over. Finally the teachers of the centre visited him at his house and talked to her father at length and made him understand the importance of qualifying the 10th standard education level.  Their household situation is discussed and Mahadeb Chaudhari stands convinced and realizes the importance of Mousumi's education. Her relatives, uncle and auntie are asked for help and thus her situation at home becomes more stable. Mahadeb Chaudhari becomes very enthusiastic to ensure his daughter's education is continued and such that she is able to appear for her Madhyamik board exam. From August mid 2015 Mousumi resumes her classes and begins to perform well.
In her school test exam, although her result was not very good, she did qualify for her final exam. Finally, in her Madhyamik Board exam she passed with flying colours in second division. Her father, uncle and auntie are all very happy. Mousumi is currently pursuing her 11th standard course in Arts and Humanities stream of Jota Jogendrapur High School.   Mahadeb Chaudhari aspires her daughter to complete Graduation in the future. With heart filled with dreams and hope and immense best wishes from her Coaching Centre teachers, Mousumi continues her journey.